Empty factories, drastic slumps in sales, stock market crashes - the effects of the corona virus (COVID-19) are increasingly becoming a threat to the economy. The business models of many domestic companies are also already at risk, because after the important national and international trade fairs, customer appointments are now being cancelled in droves. Massive slumps in orders and loss of revenue are the result. We are reacting to the corona crash and are now counteracting the quarantine and contact ban problem with a new feature. So our presentation software now enables us to profitably evaluate trade fair and product information to be shared interactively with customers and partners.
Postponed trade fairs and cancelled customer appointments do not sound particularly dramatic at first. However, if you look at the business models of many domestic companies, they can mean sort of ruin. After all, planned turnover fizzles out in one fell swoop. Small and large companies are paralyzed - they can neither act nor react.
In order to counteract this problem as quickly as possible, we have expanded our existing trade fair feature within our presentation software, so that an interactive trade fair presentation can not only be sent by link, but the amount of usage and interest of customers can also be evaluated afterwards. With this new feature we would like to help companies to keep the loss of orders and turnover, which are caused by the restrictions of the corona virus, as low as possible by keeping up the flow of information to the customer.
Digital trade fair replacement counteracts loss of sales
Above all, the cancellation of national and international trade fairs hits many companies hard. New solutions and products cannot be presented and therefore cannot be sold. This is exactly where our interactive presentation solution comes in! All features that were previously used directly at trade fairs can now also be used purely digitally. New here is the online evaluation of individual customer behavior, which was previously only possible when using touch screen elements at the trade fair stand on site.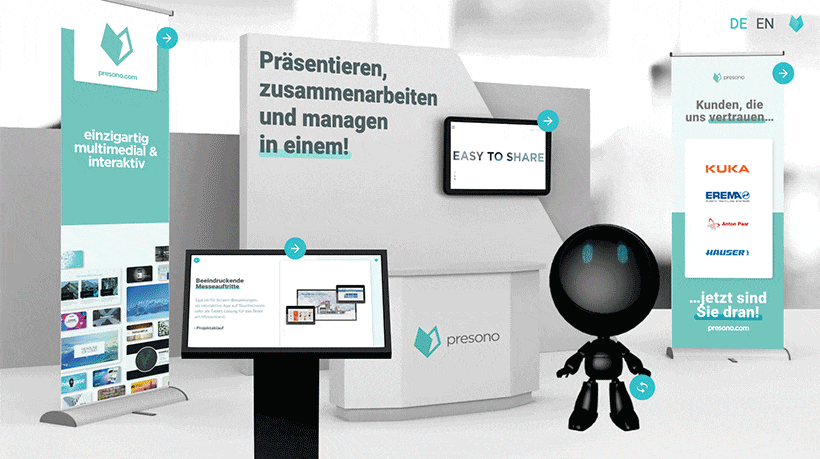 Click through our exemplary interactive exhibition stand here
Analyse individual customer behavior now even more smarter
Companies can now not only create digital, interactive trade fair presentations and send them to customers, partners and interested parties via links, but can also analyze their preferences. The recipients of the digital presentation can click through the cyber-exhibition stand on their own and discover new products interactively. The integration of 3D visualizations and renderings makes new products more tangible and easier to understand.
Afterwards, the sender of the presentation can now evaluate for the first time which slides and which content the recipient has viewed, how often and for how long. This is important information for sales staff, who also gain a decisive advantage at home office.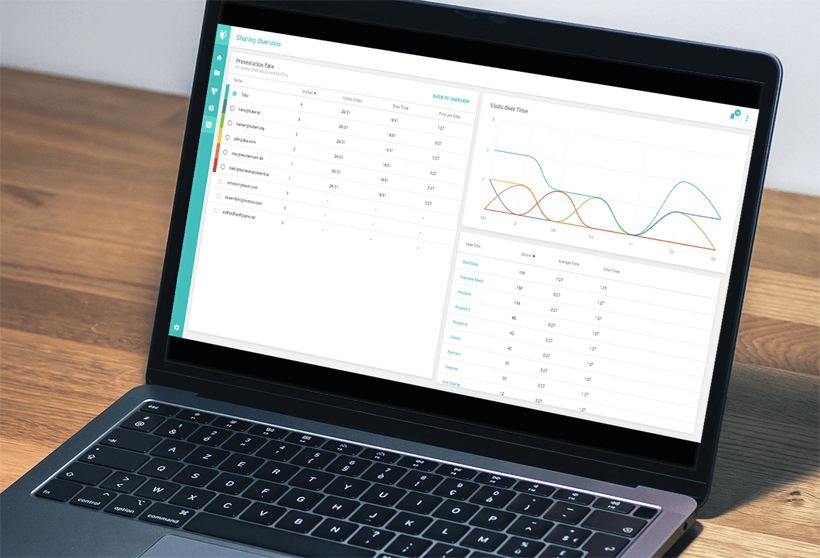 We support you in times of Corona
We know that we cannot, of course, compensate for all problems such as the lack of personal exchange. However, according to our possibilities, we are giving everything in our power to considerably facilitate the flow of information for companies in the current difficult situation and thus create a good basis for web calls and video conferences as well as actively strengthening your customer relationships.
You would like to create a digital trade fair presentation? We would be happy to help you with this!
Your big advantages at a glance:
With presono's digital trade fair you can reach your customers, partners and interested parties at any time and place
By integrating 3D visualizations and renderings, you can make new products tangible, especially in a digital way
Thanks to new analysis options, you can now easily evaluate the individual customer behavior of your digital trade fair visitors in our tool even after sending a presentation via email
Thanks to our central data management, you can also easily collaborate with your colleagues, customers and partners even from working from home even when doing home office.