What do newsletter campaigns have in common with professional presentations? Exactly - you benefit from optimally prepared statistics that allow you to analyze your campaigns perfectly. For this reason, we now also evaluate presentations that we share with customers, partners, friends and interested parties via shared link. Because this is exactly the data that is decisive for the success of our companies.
Anyone who presents in a professional environment cannot avoid a detailed evaluation of the presentations held. Above all, shared presentations contain important information about the preferences of customers, partners and interested parties. Because as soon as a presentation recipient clicks through a presentation on his or her own, you can see very precisely which products or information are of personal importance based on his or her individual clicks and the respective time spent on individual slides. Therefore, you should not miss these data under any circumstances!
Draw individual conclusions
Before you start analyzing your data, you should - as with all other statistics - set an individual goal against which the collected data will be interpreted. Because the more precisely you define your goal, the more profitable you can ultimately be in analyzing your data.
For example, if you send your presentation not only to one but to several recipients, a high opening rate does not necessarily mean that the presentation was a success. Here you should also take a closer look at general key figures such as reading or retention time and click rates. Based on these, presono tells you, for example, how long individual slides were viewed and which links were clicked on how often. As a result, you gain an impression of the interest and quality of the content and, if applicable, the potential for optimization.
Important: The decisive factors are always your own goals and the individual evaluation of the tracking data, from which starting points for the optimization of your products and documents can be derived.
How to manage shared presentations in presono
To help you manage your analysis data optimally, we have equipped our tool with a number of helpful functions. For example, you can send your presentation with just one mouse click via an approval link that opens conveniently in the recipient's browser. An input mask, which asks the link recipient to enter his or her email address, ensures that you can subsequently assign the individual usage activity. This is especially helpful when sending to multiple recipients at the same time.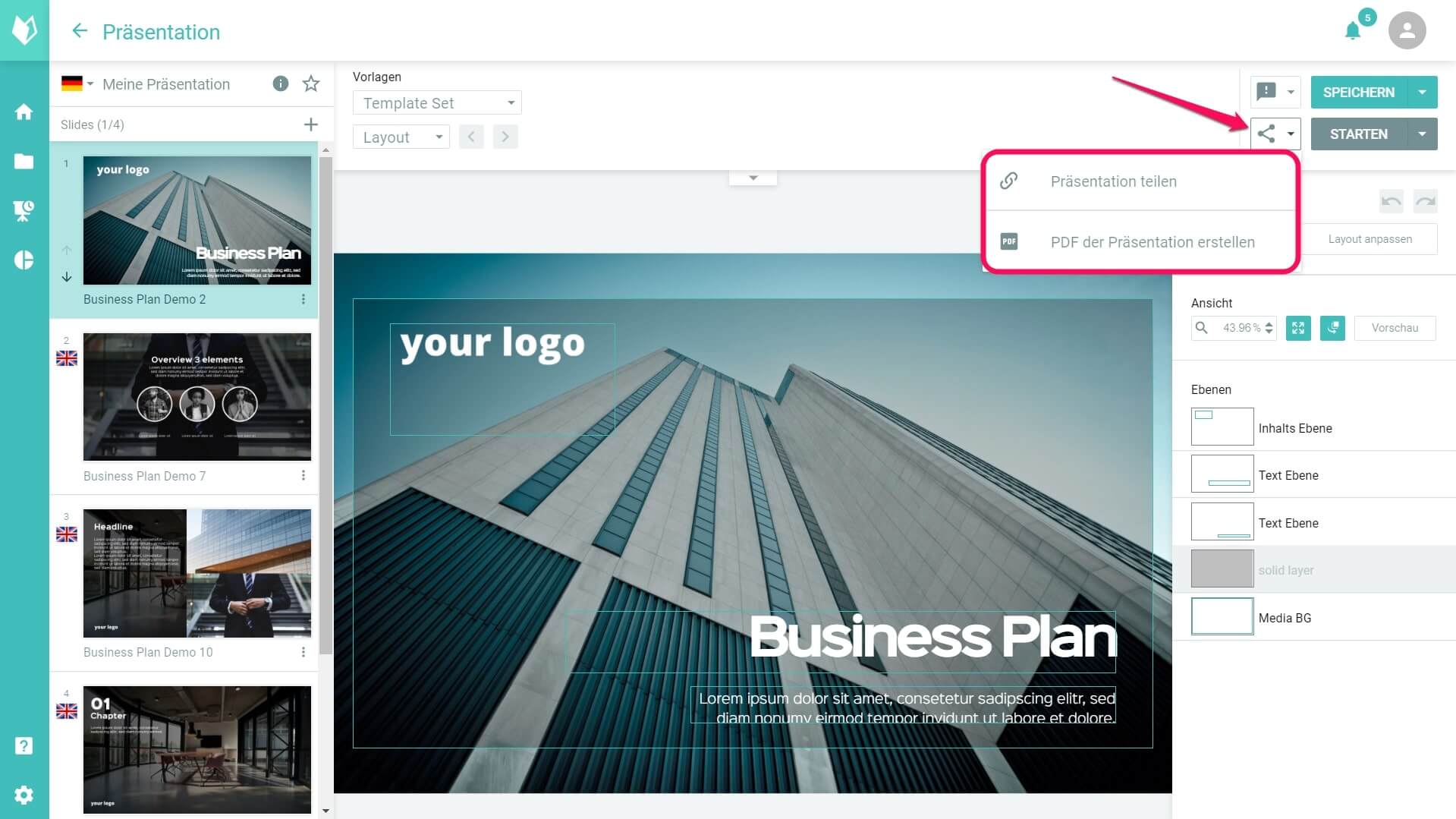 Share icon to send a presentation or session directly to customers, partners, friends or prospects.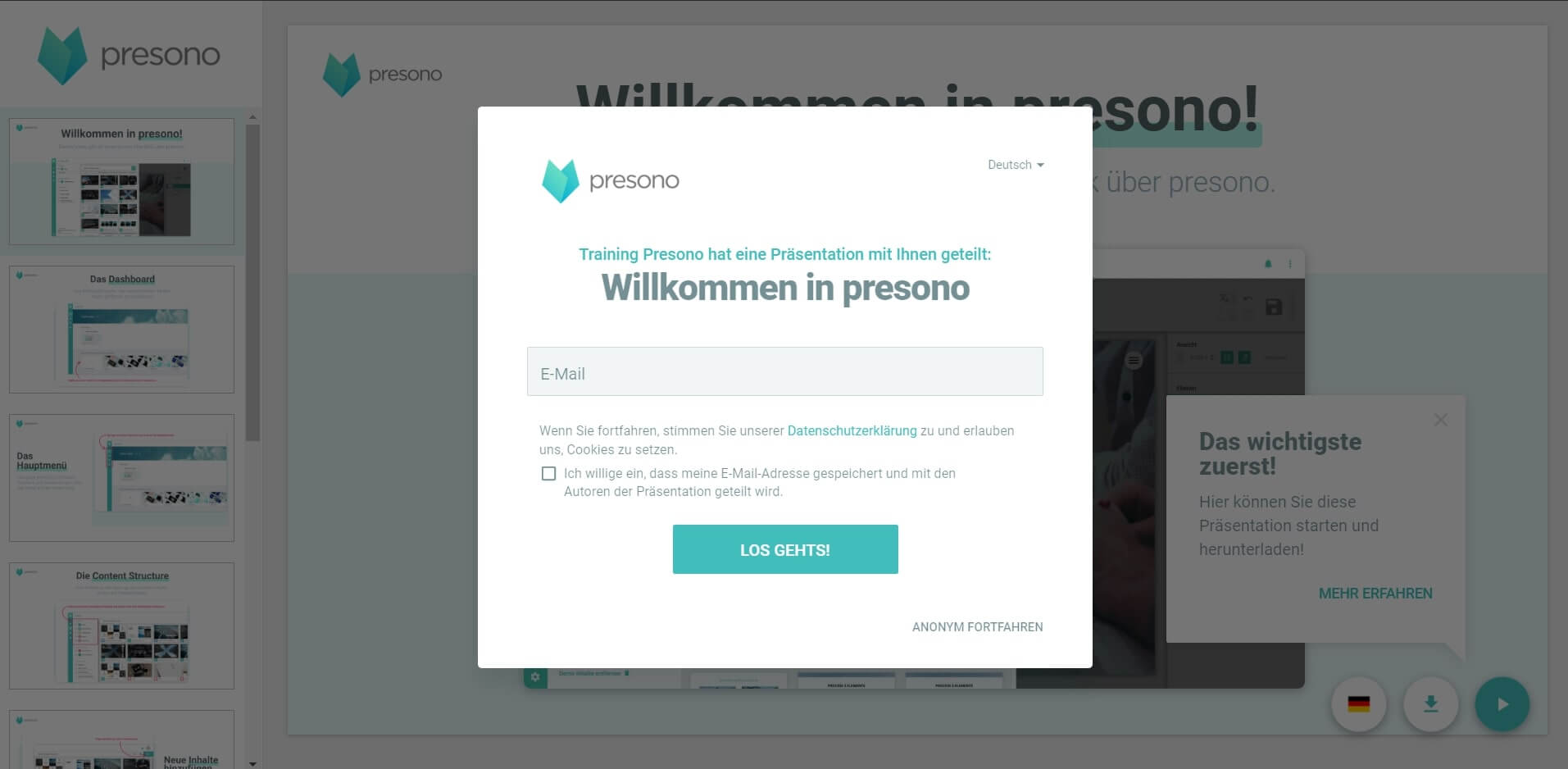 The individual usage activity of a shared presentation can be determined by email entry of the link recipient. As the link sender, you have the option of allowing the user to call up the link anonymously.
In addition to an overview of all shared presentations, presono also offers the possibility to individually set the validity period of the shared session or presentation and also to extend, shorten or end the presentation prematurely. Furthermore, as a link sender you have the option to start the presentation automatically in full screen mode or to let it play completely automatically and to set a skip of the email query.
How to evaluate shared presentations in presono
To always have an overview of all data, presono provides the most important information such as a list of all visitors of the shared link, a stacked bar chart to display the link calls and a list of all slides actually viewed collected as an overview.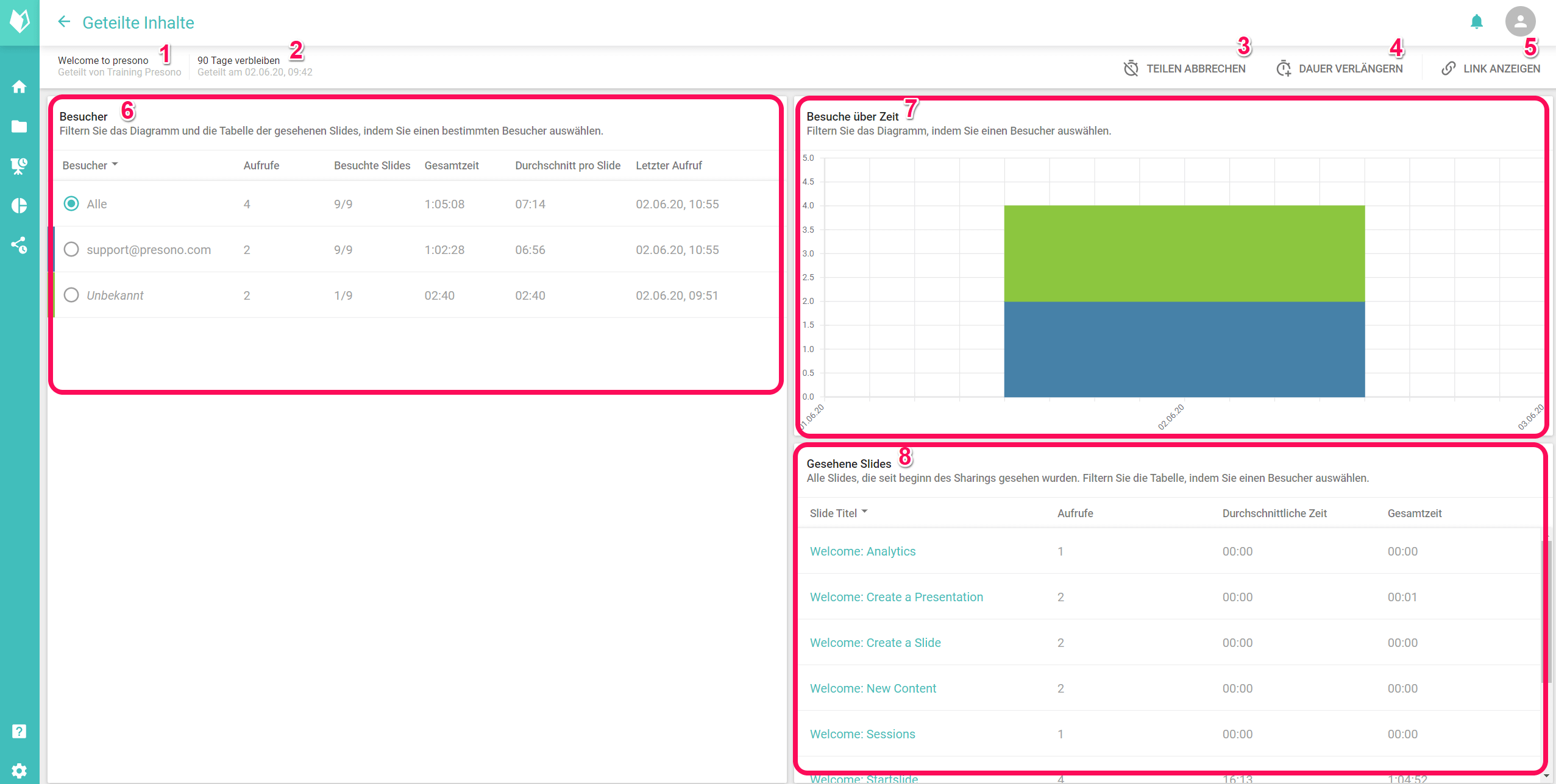 In addition to the tracking overview, the presentation title (1), the remaining share duration (2), the option to stop sharing (3), the adjustment of the validity duration (4) and the copy option of the link (5) can be found here.
In the detail view, the visitor list displays individual email addresses as individual users. All users who view the presentations without email input are summarized as "Unknown". Furthermore, it is exactly visible here how often individual users have opened the presentation link, how many slides were viewed, how long the visitor has used the link in total, the average slide retention time based on this, and when the user last opened the link.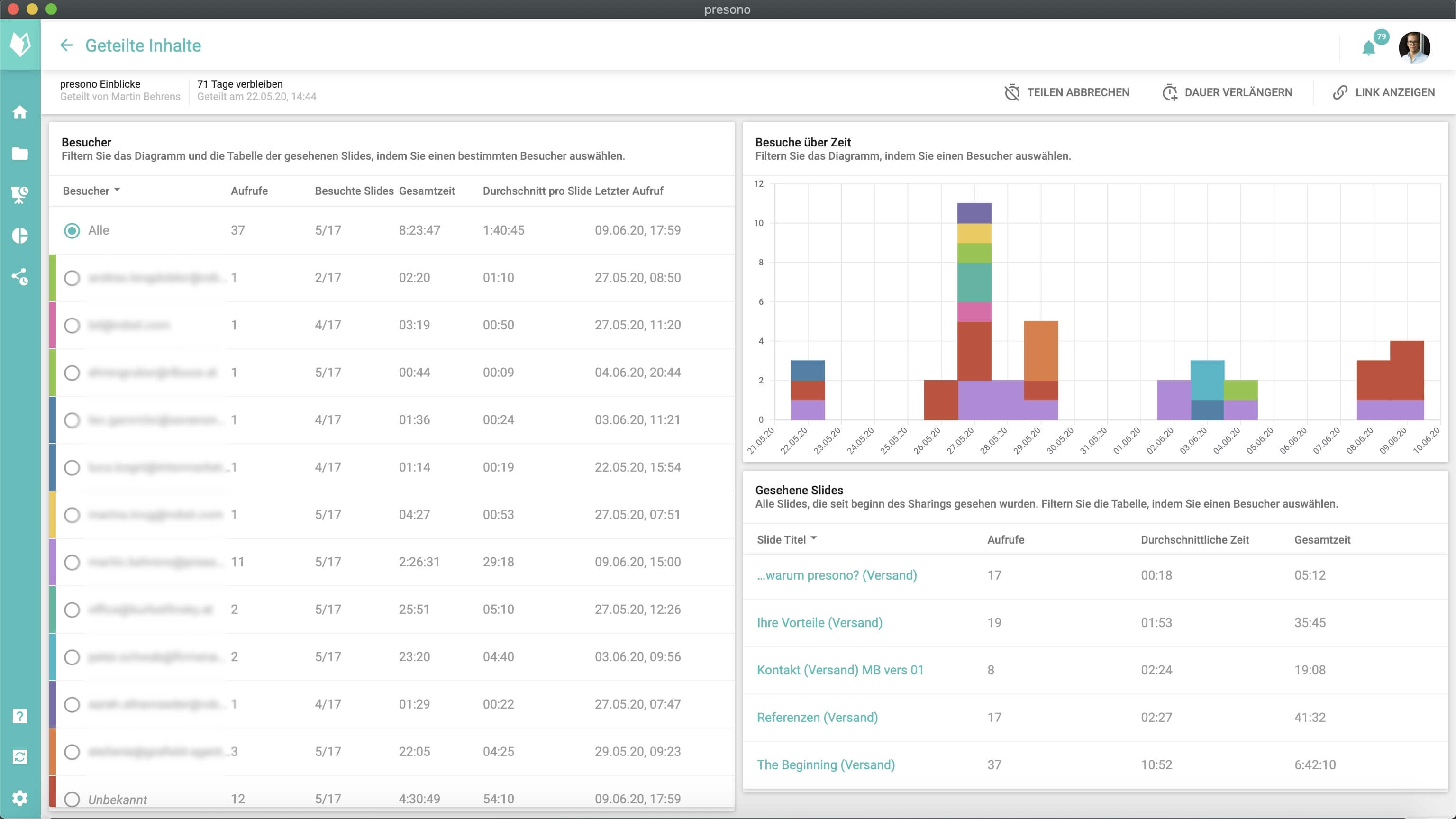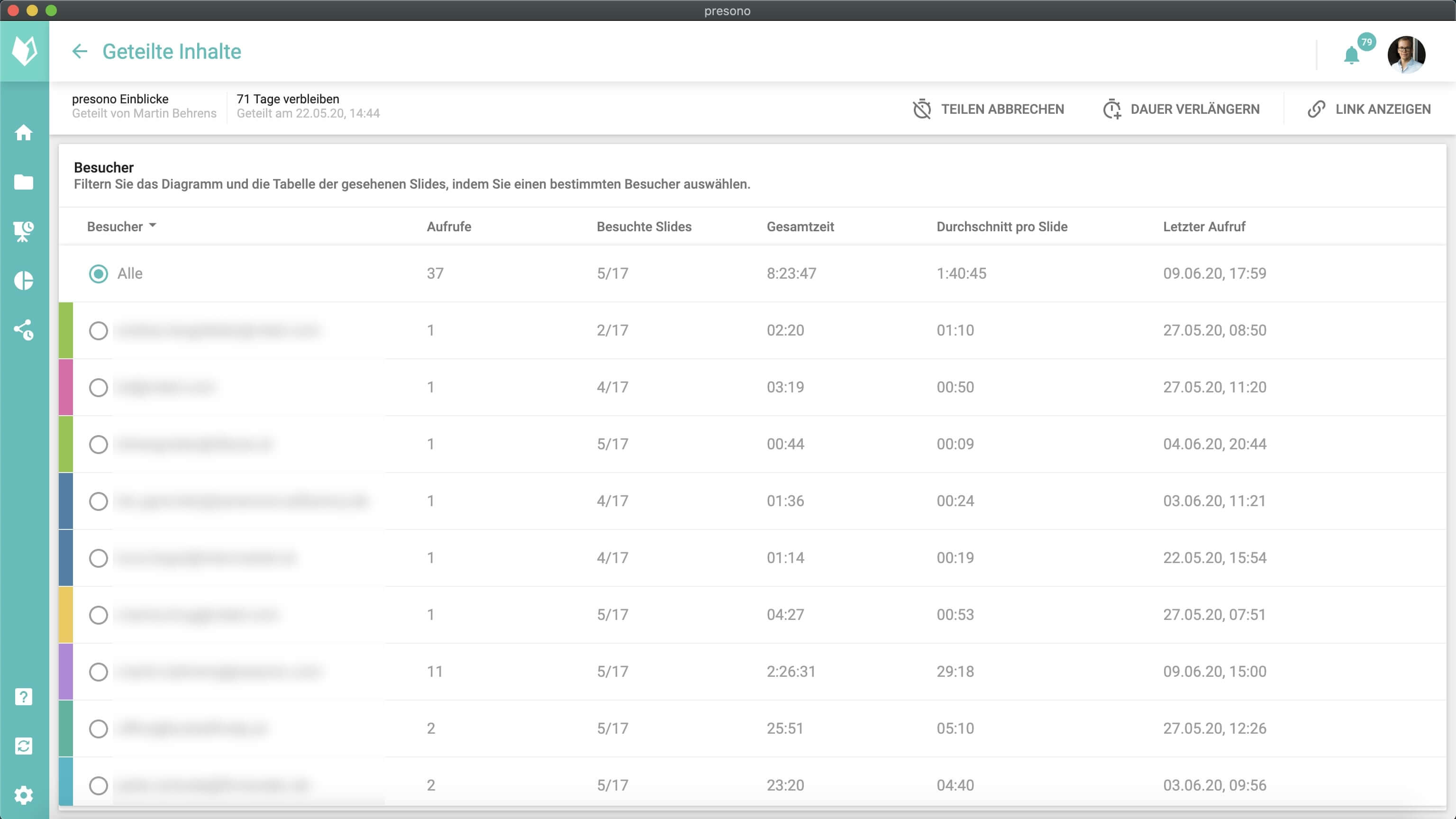 To view individual tracking data, each user can be selected individually.
To get even more detailed data, the individual slides are also evaluated. So you can see which slide was viewed how often, how long the average viewing time was and how long the slide was viewed or opened in total. This list can be narrowed down by filtering from a whole user group to the individual user.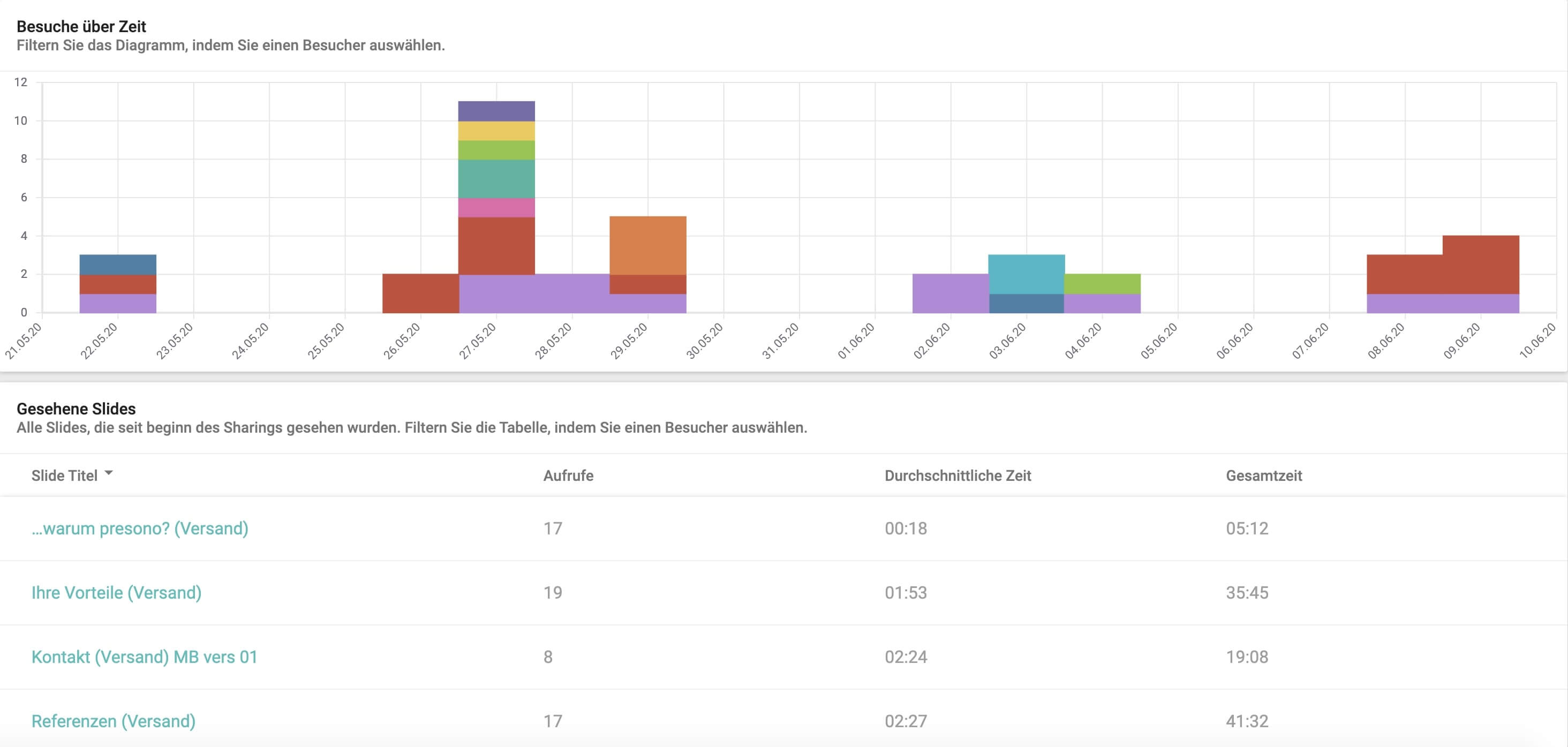 To get individual tracking data for each slide, individual users can be selected.
With this clearly collected data, you will gain valuable insights into your presentations, which will help you in both marketing and sales to take the right measures and develop effective strategies. We wish you much success and are looking forward to your requests, wishes and experiences! Please write to us at info@presono.com
PS: Are you ready to share and evaluate your sessions and presentations? Then click on our helpful "Step by Step"-guide.