Investment pitch, keynote, product or service presentation, digital showroom, trade fair appearance, sales and company presentation: There are many different types of presentations, but what are the differences and what is important in each case? We have put together a crisp overview.
1. The company presentation
Corporate presentations are standard in almost every company, often take place to start off an appointment and form the basis for the further course of a conversation. These official presentations are designed in the company's own corporate design and are used by different company divisions.
Good to know:
The primary goal of a corporate presentation is to present your company in the best possible way. However, the secondary objective of the actual appointment should always be defined. After all, a company presentation is in many cases only the introduction or the specification for the thematic framework. Possible secondary goals can be a contract conclusion, a partnership or an invitation to a follow-up appointment.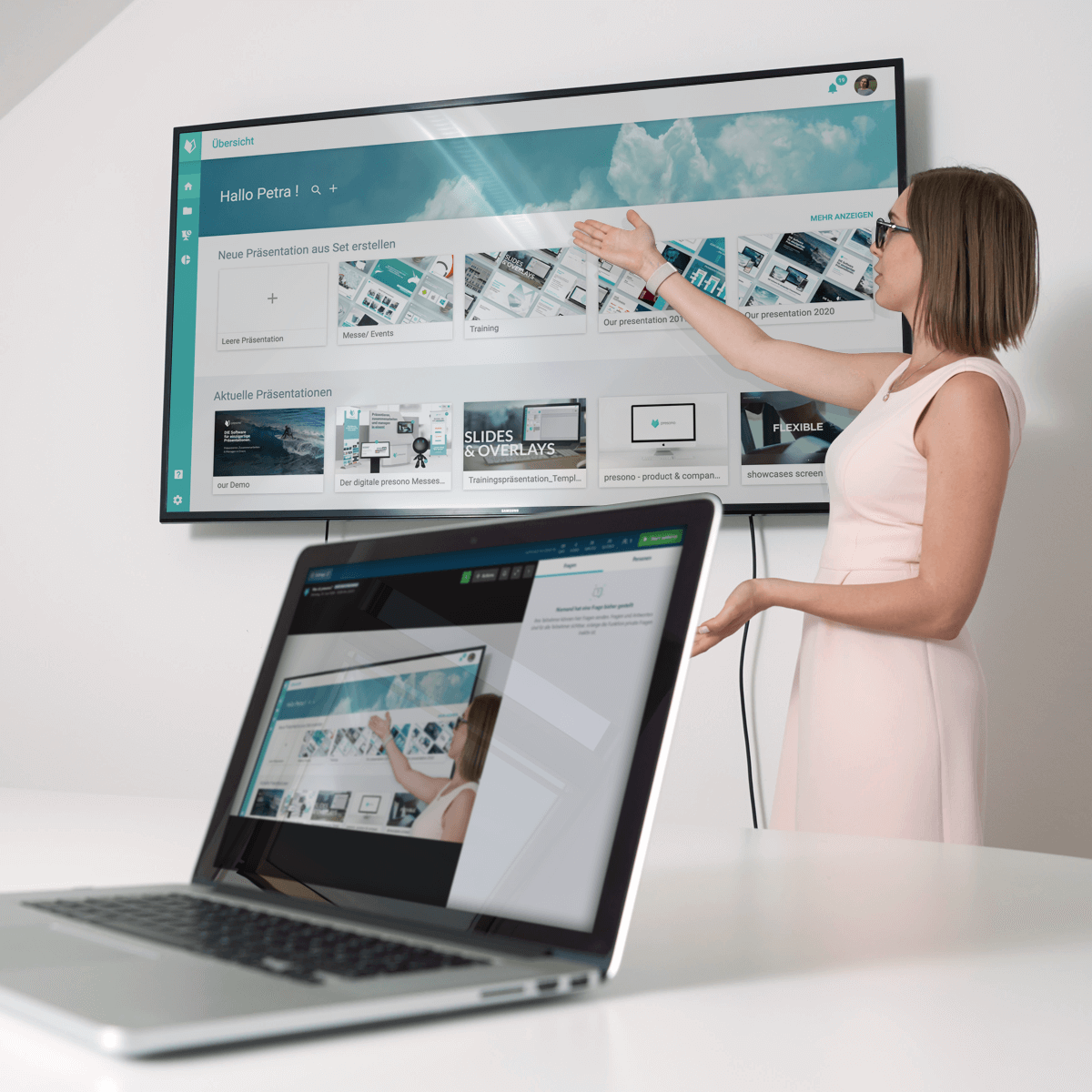 2. The investment pitch
When you start looking for investors, you must first inspire with your vision, then inform and finally also explain an implementation in order to convince. You thus present a complete concept and have to put all the individual components together in a harmonious overall picture.
Good to know:
Investors usually want to know whether money can be earned with your business idea and whether a return on the investment is possible. For this reason not only the problem solution, but also the advantages and added value, the market potential, the business model, the steps already implemented and planned, as well as the investment amount and the team should be addressed.
Furthermore, it is extremely important to distinguish between the pitch deck you send out and the one you show during the presentation - because they differ greatly in scope and design. For the pitch deck you speak to, little text and a visually striking presentation are recommended. The pitch deck that is sent out should contain all the relevant information, which is why it is more important here to elaborate on the content in text form than on the graphic design.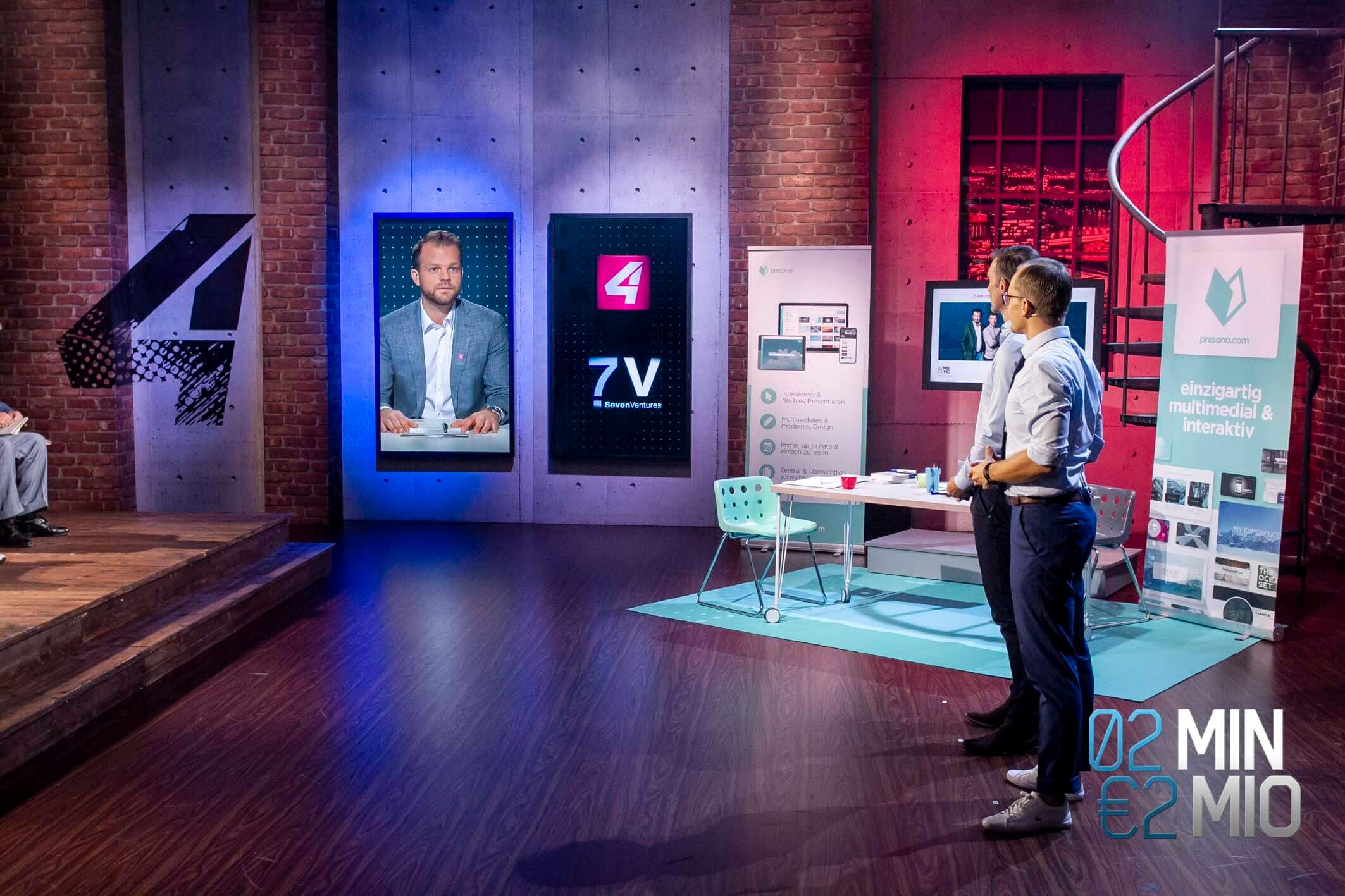 3. The sales presentation
A sales presentation is about more than just presenting your products or your services. The big goal is to create the need to get the audience to make a buying decision. However, this should not take place in a pure lecture but, as far as possible, in a dialog. In a conversation, it is not only easier for you to stir up the interest of your potential new customers, but also to set the course for the subsequent negotiations. 
Good to know:
In this type of presentation, the focus is not on the product and its features, but on the customer. In addition to the development of a perfect structure and a logical chain of argumentation, it is therefore crucial to show the advantages and opportunities for the customer and to address their needs, wishes and desires.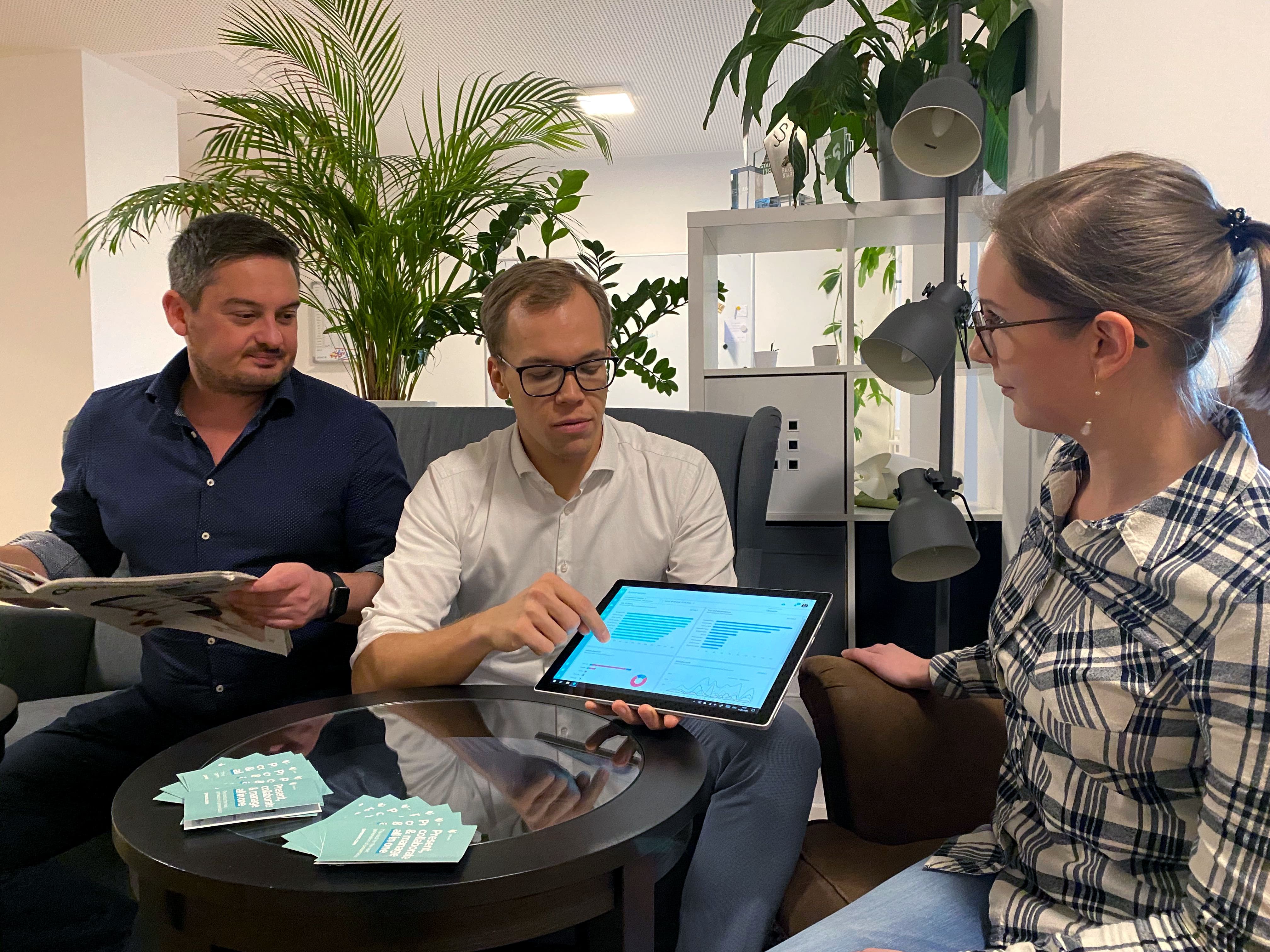 4. The internal presentation
Internal presentations or information presentations mainly take place in the areas of training and further education or in teaching and research. However, they are also often used by managers for internal communication purposes, such as in townhall meetings. As a rule, this type of presentation is very factual, with the primary goal being the transfer of knowledge.
Good to know:
Here, the content is of particular importance. The creative design layout, the presentation framework and your appearance depend on the actual purpose and can be secondary. However, depending on your preferences or the use case, you can also choose a mixed form and add an entertainment factor to the presentation. TIP: For easier reception of messages and information, emotional and expressive images, that attract attention and remain in the memory, are a good choice. However, the goal remains mostly the documentation and transmission of factual or knowledge and news.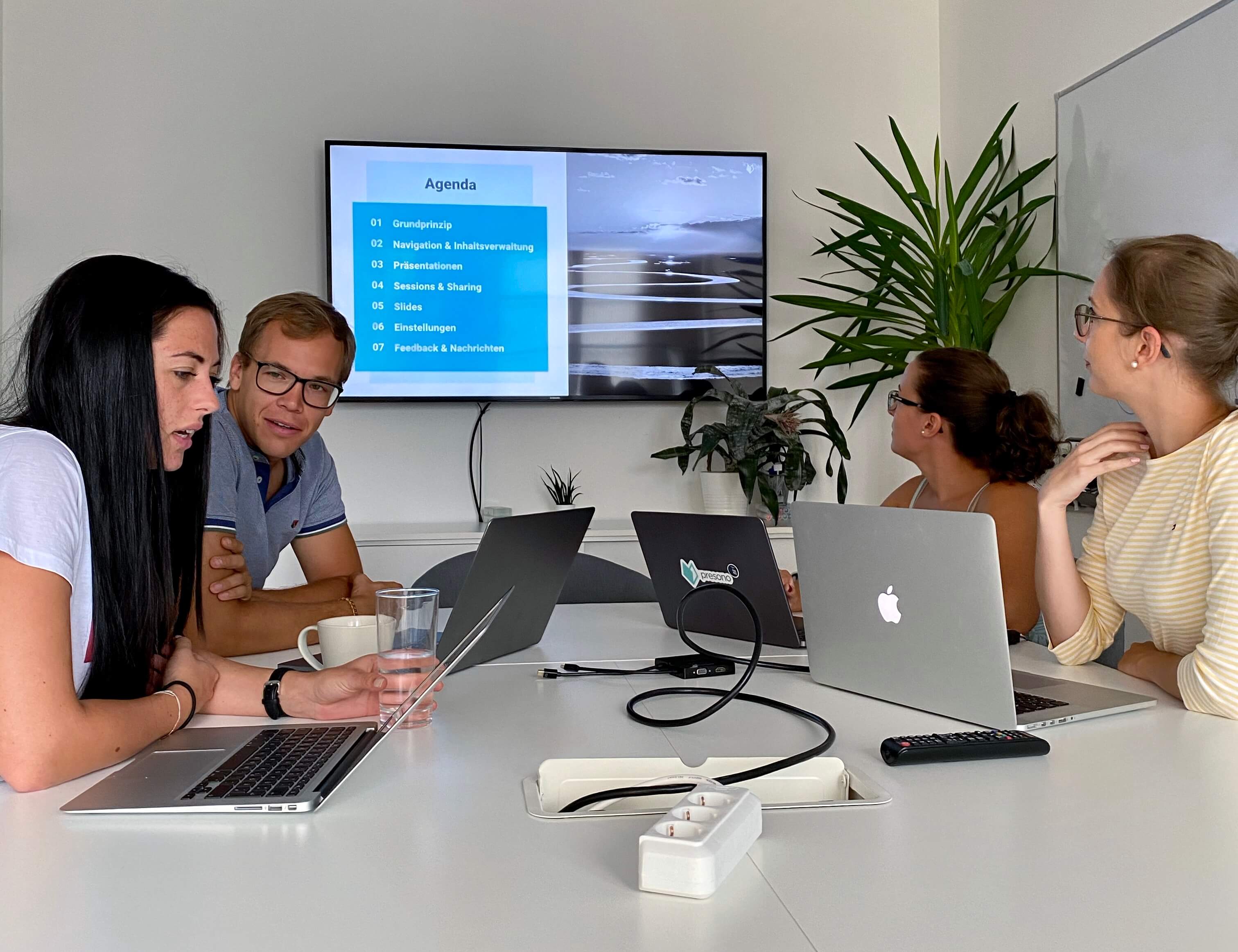 5. Interactive presentations and autoplay slideshows
Trade fairs, events and showrooms are ideal venues for presenting your own innovative strength. An interactive presentation or autoplay presentation of products, services and benefits is therefore an essential component of your (trade fair) stand - regardless of whether you are at a real trade fair site, a live event, in a showroom or in the virtual world.
Here you can choose between autoplay presentations or interactive presentations. Autoplay presentations are played automatically on screens. This type of presentation primarily impresses with short facts and an attention-grabbing presentation that is intended to attract potential customers. Interactive presentations on touchscreens (are also known as trade fair apps) predominantly combine topics from sales and corporate presentations. Here, your customers can click through your product world independently on site, whereby you can subsequently evaluate the individual click behavior with presono and use the data profitably, especially in sales.
Parallel to the real world, these two forms of presentation can also take place virtually via shared link, independent of time and space. Think of these digital showrooms as a high-class online version of your brand or your company, where you can make your offer an interactive and realistic experience online. By the way, tracking individual click behavior with presono also gives you information about personal customer preferences and a clear advantage in follow-up discussions.
Good to know:
The same applies to a trade fair as to a website: You need to capture and retain visitors' attention within a few seconds so that they linger at your booth and don't move on. To win new customers, you therefore need an exciting teaser presentation that attracts interested parties. But even if you want to inform existing customers about new developments or want prospects to delve deeper into your topic, it's important to hold their attention and offer an engaging, interactive experience.
6. The keynote
A keynote speech is usually used to open a larger event, such as a conference or a series of seminars. Your speech should set the mood for a particular topic, stimulate thought and arouse general interest. The goal is to convey content in an entertaining, humorous and memorable way. Slides are not absolutely necessary for this type of presentation, but are often used as support. Here you should limit yourself to a few pictorial slides and rely on the power of images to underline your messages and key statements.
Good to know:
A keynote speaker should not only provide the audience with new knowledge, he should also move them in a sustainable way, so that they are inspired and motivated to start the following event. Here, extensive content preparation with clear messages, formulations, figurative language and concrete statements is essential.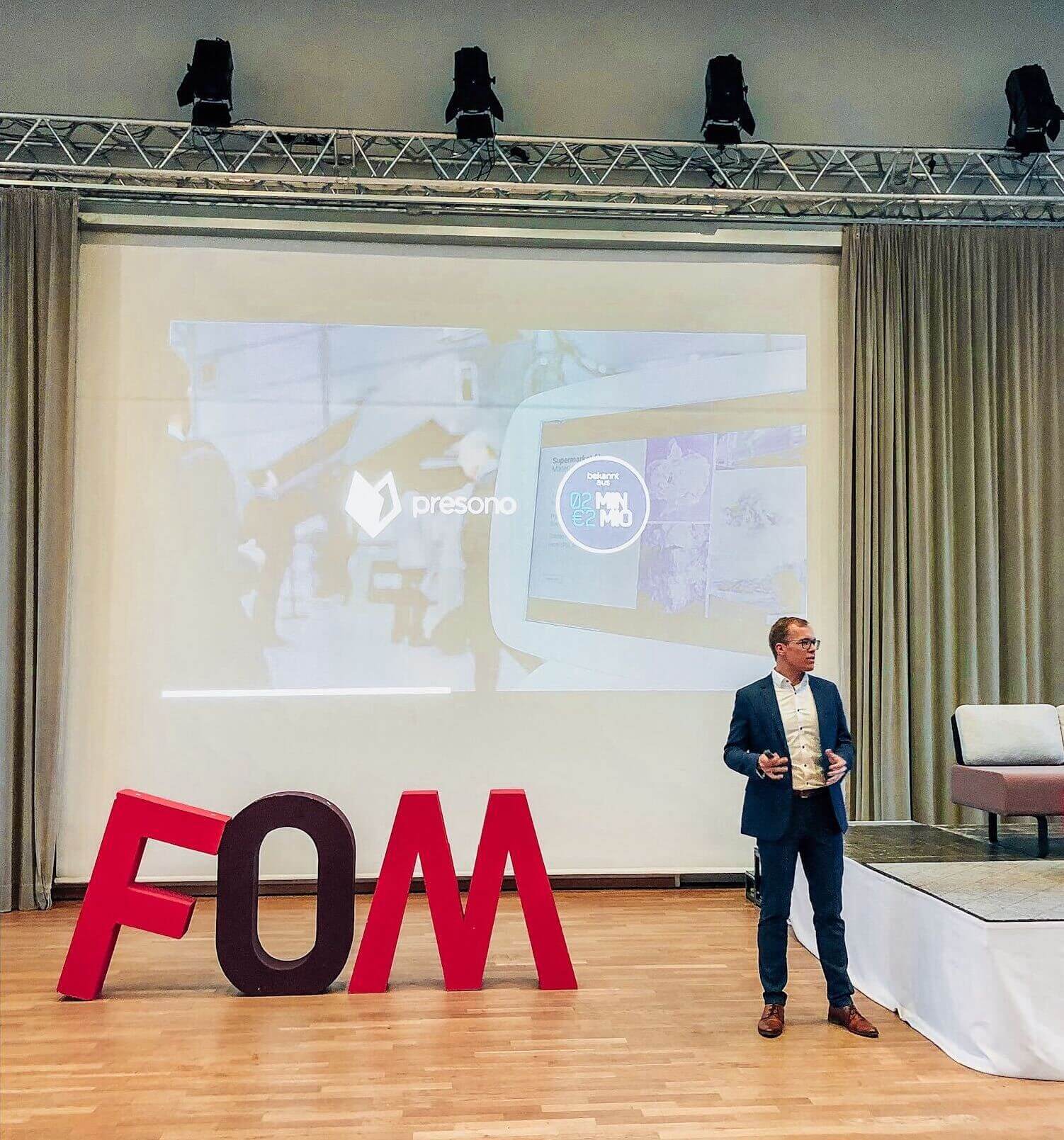 You would like to learn more about the different types of presentations? Then you should definitely sign up for our newsletter! In the next few weeks there will not only follow detailed insights into the six most important presentation types, but also lots of helpful tips & tricks!