"2 Minuten 2 Millionen" is one of the most successful TV shows of PULS4. The fact that we were able to convince Seven Ventures investor Daniel Zech of our presentation software in the course of our participation and that we were able to get hold of a media budget of 1 million Euros makes us especially proud. How did we manage to do this, what preparations were necessary and what else did we have to do after the show? We answer the ten most important questions about the successful TV format. Lots of tips for future participants included!
1. How to get into the show "2 Minuten 2 Millionen" - and how did presono make it?
There are two ways to participate in the show: Either you apply on your own initiative or you will be contacted directly by the show organizers via e-mail. The latter applied to us. Nevertheless, we had to go through the entire application process and apply in writing like everyone else. After this initial round of interviews, a two-minute video pitch followed and finally the invitation for the TV recording. Good to know: The recording takes place several months before the broadcast. We stood in front of the TV cameras in October 2019 and did not flicker across the TV screens until February 2020. The current season even runs until May, which means a lot of time can pass between shooting and broadcasting.
You want to be part of the investment show? Click HERE to go to the application for "2 minutes 2 million"!
2. What happens on the day of shooting at PULS4 and how much time do you have to plan for it?
In any case, it is advisable to keep the shooting day free. Our shooting was scheduled for noon, but we had to be on location at 6 a.m. to take care of organizational matters and go through all the preparatory steps on location. After a change of outfit, the program included shots, interviews and briefings in the "waiting area". Before the pitch, the walk to the studio door was filmed, after the pitch the team consultation on the offered investment was filmed. This was followed by a few final talks.
3. What is it like to stand in the studio, give interviews and feel the excitement backstage?
It's very exciting to see familiar faces of PULS4 and one or the other investor on the way to the studio. To have a camera team and spotlights live is a very special experience. You can feel like a TV star for a moment.
4. How often may one record the 2-minute pitch - and how often are the individual scenes filmed in conversation with the investors?
If you think that the pitch can be shot several times because it is not broadcast live on TV but recorded, you are unfortunately wrong. As soon as the pitchers enter the investors' studio, the recording is on and will be shown later - with all the mishaps and promises. So it's now or never! As the accompanying team we could only follow the pitch backstage on the screen and keep our fingers crossed excited.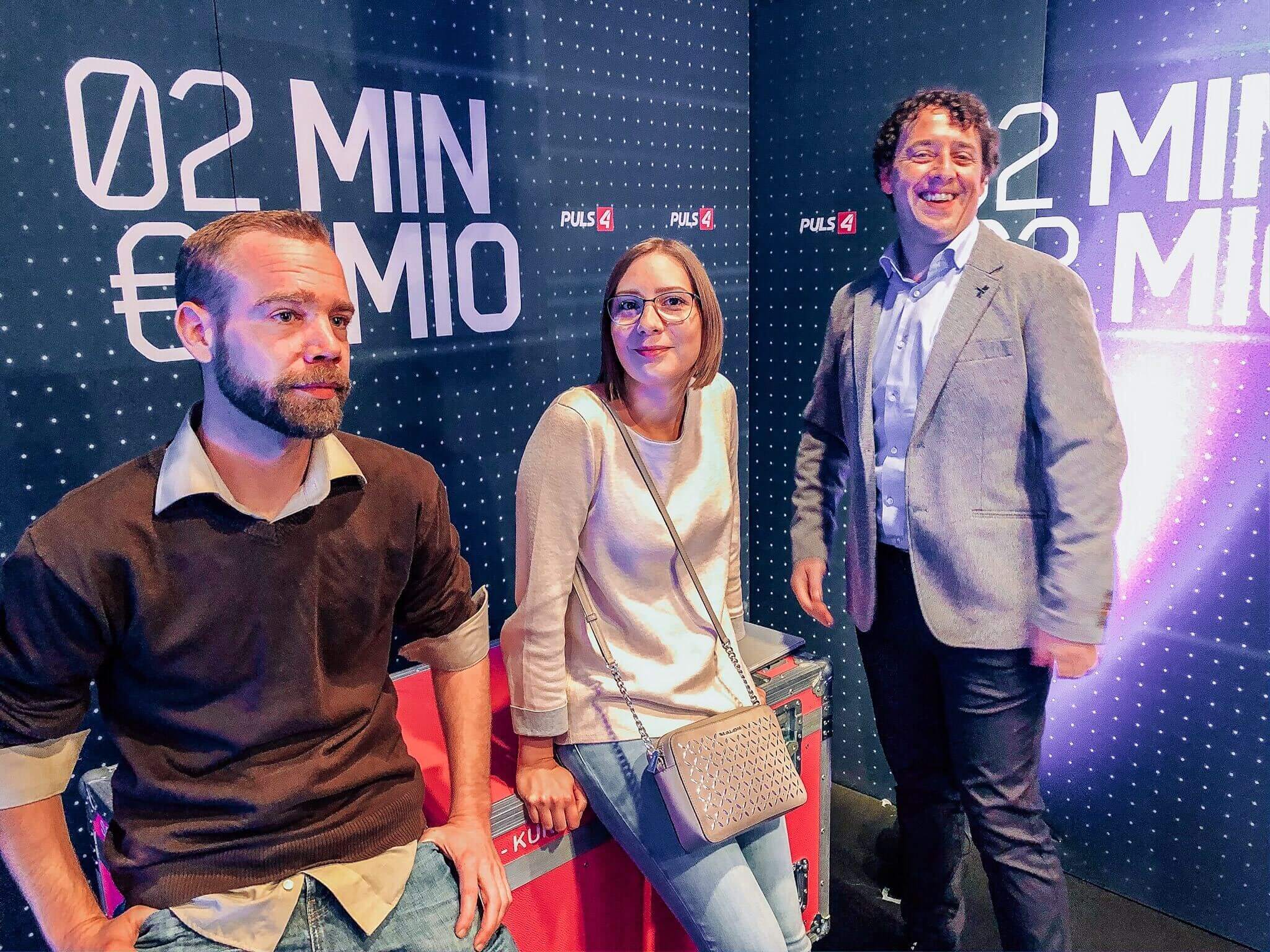 Thrills: Flo, Pezi and Sebastian (from left) were feverish backstage with © presono
5. How did presono prepare for the pitch and what should one generally pay special attention to?
In order to deliver a professional pitch, it is essential that the presentation is intensively studied. We have revised our text several times and practiced the pitch intensively with and without an audience, with eyes closed and even doing push-ups. By the way, this is a good tip to really internalize the text and a good exercise to avoid being distracted or irritated by external influences. We also talked to several people who have already pitched at "2 minutes 2 million" and collected questions that investors might ask.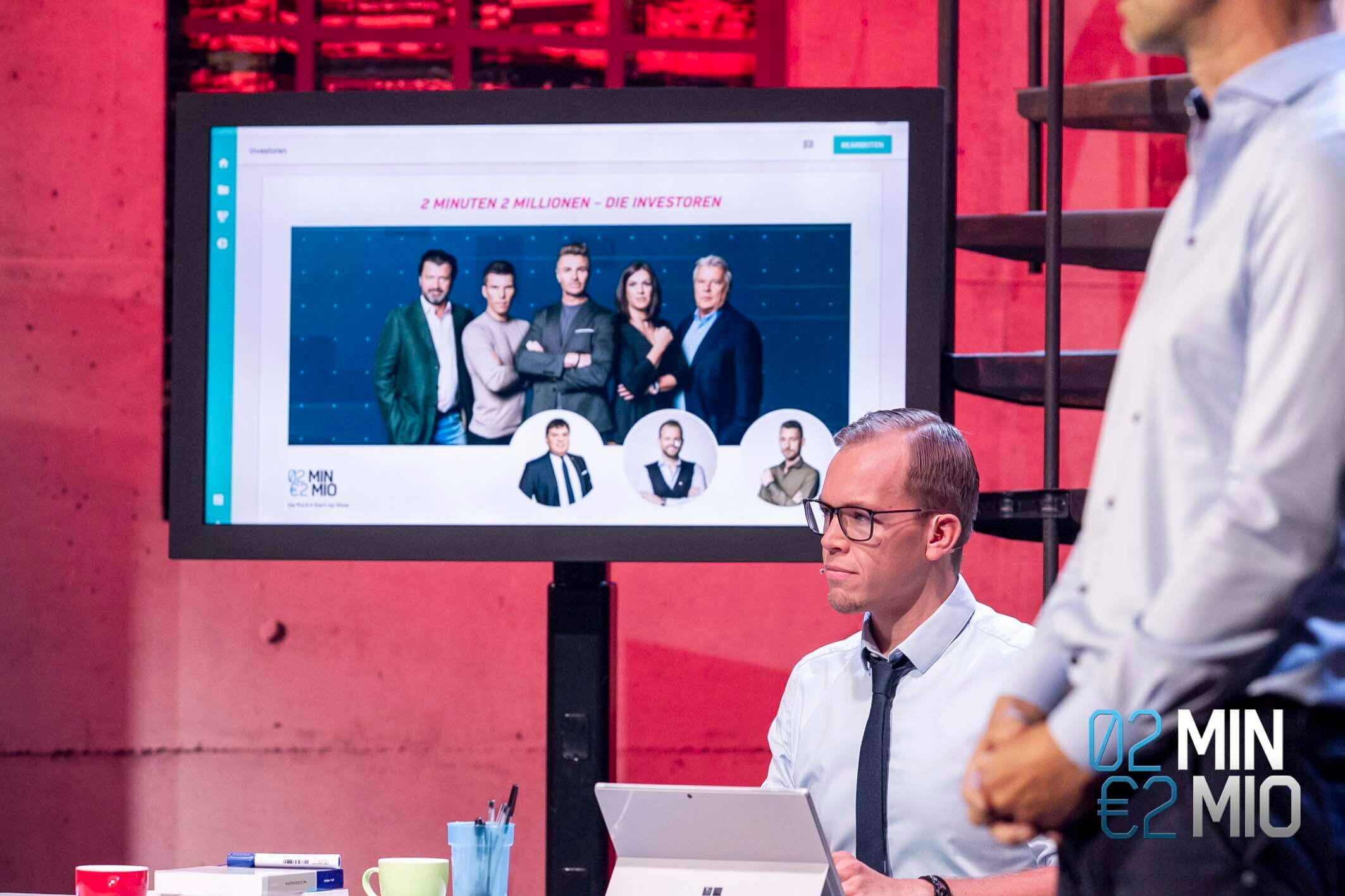 Now or never: presono CEO Martin Behrens at the TV pitch ©PULS4/Gerry Frank
6. What should you pay attention to when evaluating your own company?
This is currently a much discussed topic in the start-up world - even independently of "2 minutes 2 million" (see e.g. reports in "Der Brutkasten" & Trending Topics). In any case, you should remain realistic and look as objectively as possible at where you stand and what the actual value is that you have already generated. Just with an idea and a prototype you cannot float in utopian investment spheres. After all, we are in Austria, i.e. US-American valuation standards or approaches do not automatically apply here in the same way.
However, if you have already developed a solution or a product and can show significant sales, things look a little different again. However, when offering "2 minutes 2 million" to investors, one should not only focus on the cash that an investor might bring in, but also take into account the value of the respective experience, network and know-how.
7. What is the best time to join "2 Minuten 2 Millionen" as a start-up and with which business models does it make sense to go into the show?
Unfortunately, there is no general answer to this question, because it depends very much on what goals you are pursuing. Depending on whether you need investment, network or know-how, you have to choose the right time. Once you have finished developing a product, started marketing it and the first solid figures are measurable, this can already be a good time to use an investor network as well as an investment for an initial scaling.
An early investment search can of course also work, but investors usually expect an already measurable output. On the other hand, if you are already "too far" and thus "too expensive" in development, the investment case for such a shipment is often no longer given. It is different, however, if you have already established yourself with a B2C product in Germany, for example, and want to enter the Austrian market for the first time.
In terms of the business model, a B2C start-up is naturally the most exciting option for the 300,000 - 400,000 viewers of "2 Minuten 2 Millionen". In the best case scenario, viewers can identify with the product and the founders and assess for themselves whether they need the solution presented. Due to the high transmission range, B2B2C and B2B companies also profit greatly from participating in "2 Minuten 2 Millionen". And not only from the advertising value of the program, but also from the feedback and possible investments of the investors.
8. What surprises should one expect with "2 Minuten 2 Millionen"?
In general, you should expect everything, be flexible and not be put off by short-term changes. In our case, for example, there was a change of investor. Katharina Schneider was unable to attend our shooting day, so Heinrich Prokop suddenly sat on the jury as a substitute.
In the course of the interviews, which take place in the course of the program design, one should also be prepared for a very wide range of questions - from career development to information about the team and company to private matters.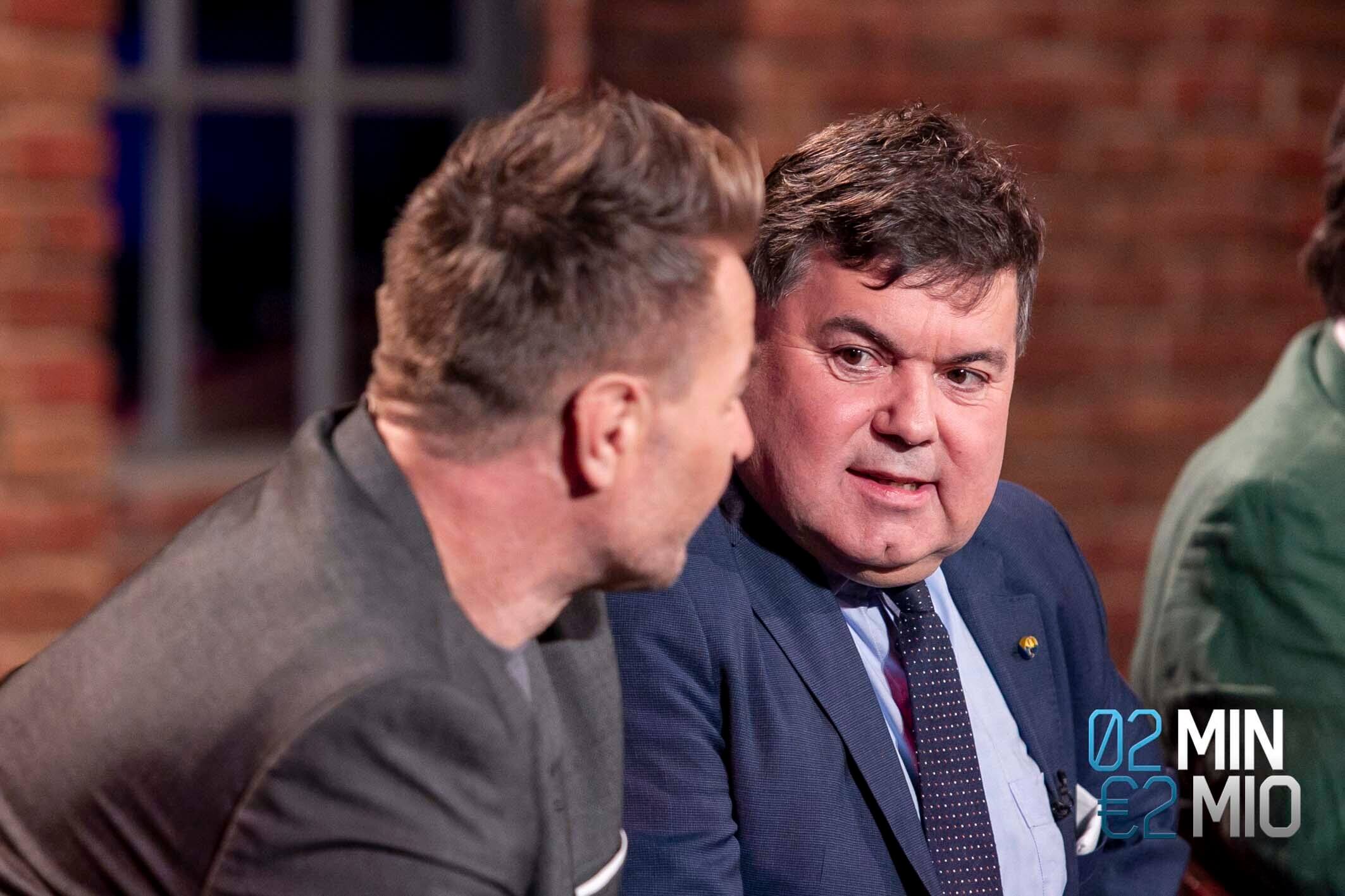 Surprise: Instead of Katharina Schneider, Heinrich Prokop sat on the jury ©PULS4/Gerry Frank
9. How does a deal with a "2 Minuten 2 Millionen" investor come about? What steps do you have to take and what precautions should you take?
What is said and agreed during the broadcast is neither fixed nor legally binding. The actual negotiations only take place after the show and without cameras. Here - in our case together with already existing business angels - all detailed agreements on investment amount, valuation and settlement are made or the agreement from the broadcast is specified again. In addition, a (at least small) due diligence check follows and finally the design of the investment contracts.
To make all processes as smooth as possible, it is of course important to have all documents ready and cleanly prepared. Furthermore, it is essential to proactively drive forward the investment negotiations and to conclude the deal with a high degree of personal initiative. Meanwhile we have prepared everything for our deal and the contracts are in the finalization phase. They should be signed within the next few weeks. #staytuned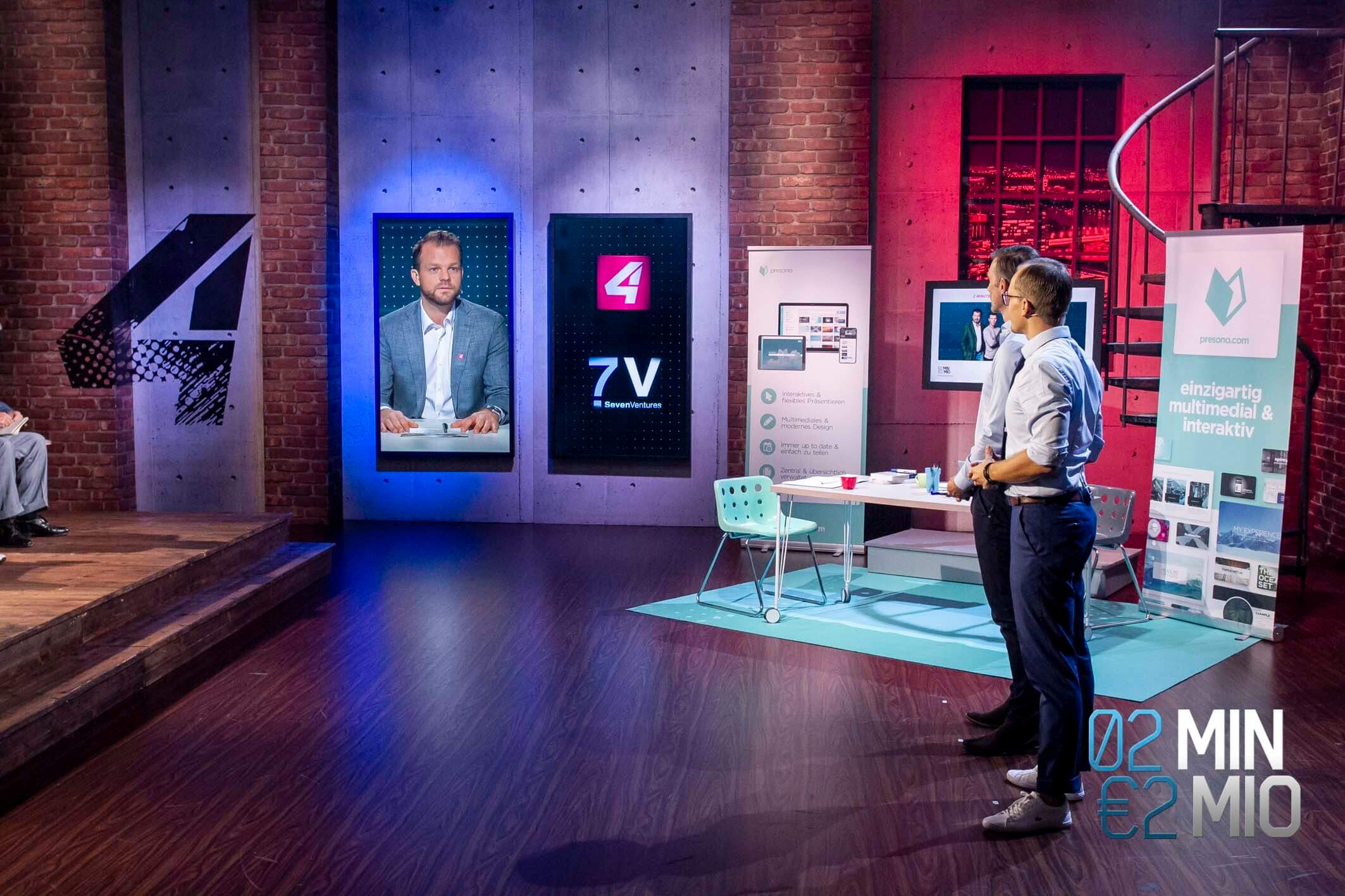 Jackpot: Daniel Zech from Seven Ventures agreed to a 1 million euro media budget in the show ©PULS4/Gerry Frank
10. What should one prepare for before the program is broadcast and what happens after the program is broadcast?
The webshop or website should definitely be brought up to scratch and prepared for very high access rates. If you are a B2C company delivering products, you should be prepared for intensive packaging and shipping for the days after the broadcast.
Furthermore, you should inform your followers and your network about your participation in "2 Minuten 2 Millionen" and you should advertise properly. But attention! You may only do this seven days before the broadcast and of course you may not reveal the outcome and result of the pitch. In our opinion it is also very important: No matter if the pitch goes out with or without investment, you should definitely celebrate on the evening of the broadcast. Because participation is a great experience to be proud of.
broadcast missed? go to our pitch HERE!
Even more personal "2 minutes 2 million" insights and TV pitch experiences are also available in episode #4 of the start-up podcast Achtung Achterbahn from presono-CEO Martin Behrens and andmetics-CEO Hannes Freundenthaler. Listen now!