Today, technological change is taking place at an unprecedented pace, creating a world that demands ever faster, ever better, ever more professional results. As the demands on concepts, documents, pitches and presentations, among other things, continuously climb up the scale of expectations, tools are needed to support this optimization hunt in an efficient and structured way. While large companies are supported by agencies of all kinds, smaller companies and teams often lack the necessary resources. In the following article, we reveal the amazing advantages that easy-to-implement self-service solutions can create here. Insights from our self-service customer Mario Fraiss from the Graz-based software development company Fraiss IT included!
There are many reasons for introducing new IT solutions. Maintaining competitiveness as one of the main reasons often goes hand in hand with optimizing business processes through suitable software. Also, the development of new business areas, organizational restructuring and changing framework conditions require the effective use of current information and communication technologies in both large and smaller companies. In order to avoid time-consuming use of presentation software in both large and small teams and companies, we have developed an efficient self-service tool around the topics of presenting, managing and analyzing in addition to an enterprise solution.
In addition to the strong simplification of complicated management and communication processes and the resulting cost and time savings, our self-service customers in particular also benefit from higher employee satisfaction. The effective way in which they can achieve outstanding presentation results with just a few mouse clicks motivates and spurs them on. However, we do not leave you completely on your own. Our comprehensive knowledge database guarantees 24/7 support, independent of time and location, providing detailed step-by-step coverage of all the topics covered by our presentation software. In addition, we regularly offer the opportunity to participate in webinars, where our presentation experts reveal tips and tricks and provide helpful insights into the world of presono.
The customer feedback that we receive in the course of this is an important component of our software development. Requests such as the import of PowerPoint files, extended table formatting, and versioning and archiving issues are therefore already in the planning and implementation phase.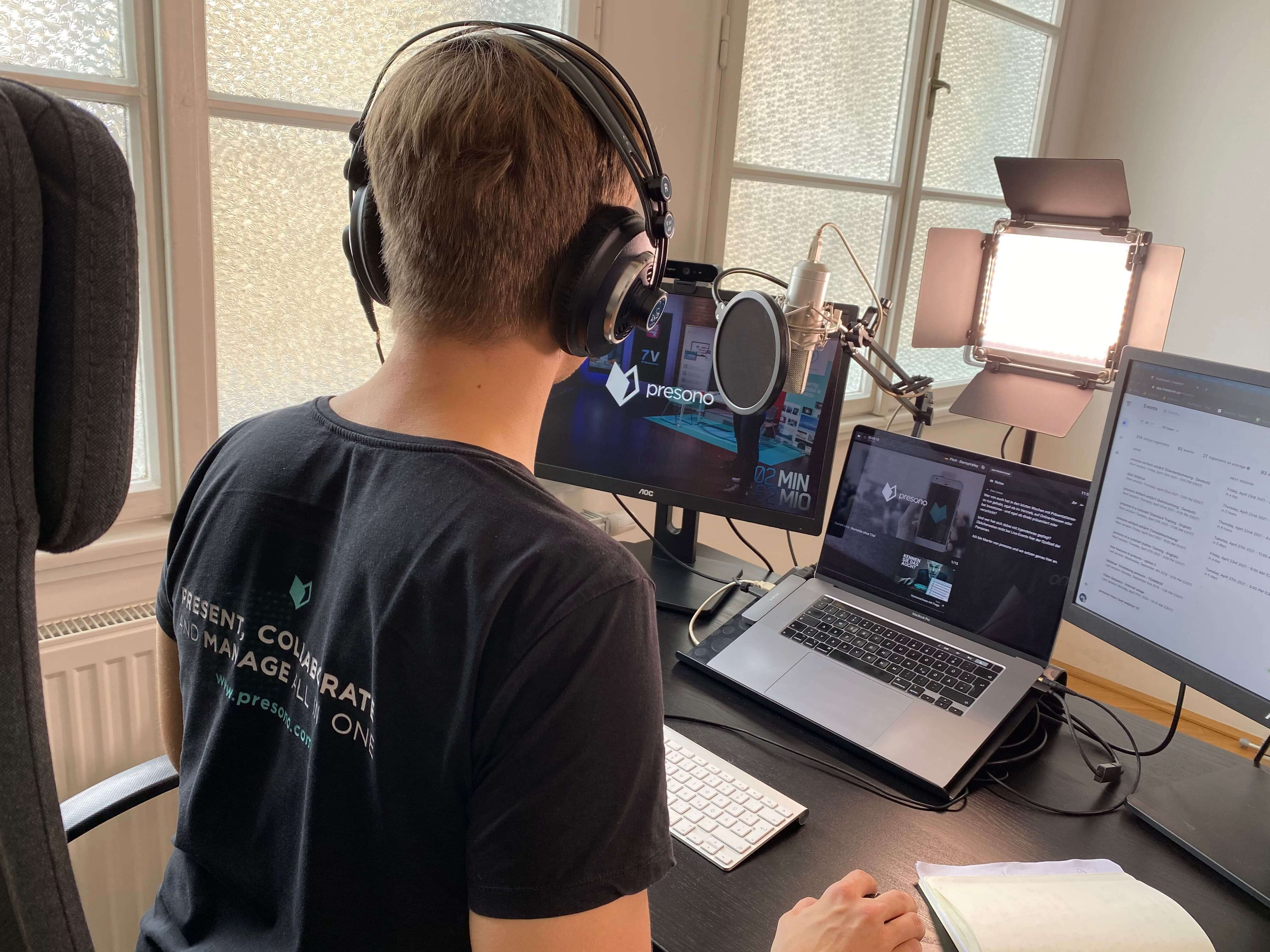 presono's team of experts also supports self-service users with regular webinars, generating important feedback for the further development of the presentation software.
In the following short interview, IT expert Mario Fraiss, who has already been able to create around 100 presentations with our tool, reveals what experience he has gained with our self-service version:
Individual software systems for a wide variety of industries have been your specialty for more than ten years. In which areas do presentations play a role in your everyday work?
Company presentations are one of our most important tools, especially for two central topics: In initial customer contact for company presentation and when compiling an info deck for reference purposes.
What motivated you to use our tool in self-service mode?
The central organization and management of presentations is an enormous advantage and guarantees a great time saving. In addition, you can easily roll out your company's own corporate identity and corporate design specifications. Of course, flexibility is another plus point.
Learn the most important facts about presono's smart functionality here.
Did you find your way around the tool right from the start?
For me it was classic "learning by doing". Getting started was very complex, but after that using it was logical.
To help you get started with a complex (presentation) software like presono, we recently developed a comprehensive project management guide. Click in and benefit from our know-how gathered over many years!
How would you describe the optimal presentation to customers or interested parties?
Simple and comprehensible content, visually appealing but still with charm and that "certain something".
Which presono features are particularly helpful for you in your daily work?
The quick retrieval of slides.
The spontaneous and quick compilation of presentations.
The quick localization of content.
The sharing of presentations via link.
The analysis of user behavior after sending interactive presentations via link.
What do you see as the biggest presono benefit and how do you use it sustainably?
The greatest benefit is certainly the flexible just-in-time composition for spontaneously required presentations - for example, live during a customer meeting.
What were or are the biggest challenges for you when presenting and how did you solve them?
There were actually none, when presono was in use, everything worked wonderfully.