Let's be real here: not every startup idea will go to the heart of a room full of investors. That's not a bad thing, though, because the feeling you really want to instill in investors is the fear of missing out, or the fear that someone else might snatch the deal away. To do that, however, you need not only the perfect pitch, but also the perfect pitch deck. What a pitch deck is, how to build a pitch deck and what you should definitely pay attention to, we reveal now!
What is a pitch deck?
In a pitch deck, the most important company or business plan contents are collected on a few slides. This gives a venture capitalist an overview of the business idea and the financing requirements in the shortest possible time. By the way, there are many different approaches for the optimal structure of the pitch deck. We recommend following the already successfully established concept of Sequoia Capital.
Why is a pitch deck so important for investors?
Investors have the luxury problem of being inundated with requests. Their task is therefore to select the most promising ideas and start-ups. This requires not only a certain amount of diligence, but also a lot of time. To ensure that this can be used efficiently and effectively, a perfectly prepared pitch deck consisting of around ten to thirteen slides is the be-all and end-all of any investment search. Submissions in the form of a business plan, on the other hand, are rarely helpful, as there is usually not enough time to fully review them.
IMPORTANT: For live pitches, be sure to keep track of time. If the pitch is scheduled for only one minute, you should limit yourself to a maximum of three to four slides with the most important facts and highlights. For a three-minute pitch, you should get by with ten slides, and for a ten-minute pitch, you can break down the individual topics into several slides.
How is a pitch deck structured?
One of the most important presentation rules also applies to investment pitches: brevity is the key! Therefore, save on the text, rely on meaningful images, videos and graphics and try to arouse emotions and tell the story behind your start-up in the limited space available.
You can read about how to become a compelling storyteller here!
By the way, it's a little different if you send out your pitch deck to potential investors before or even after the pitch. Here you are allowed to present your company in a bit more detail and provide in-depth background information to help them make a decision.
IMPORTANT: Depending on your business model, the structure and content of your pitch may differ slightly. Consequently, as mentioned above, we will stick to Sequoia Capital's structure and focus on pitch deck tips for live presentations. The most important elements that should not be missing from your live pitch - regardless of the presentation model you choose - are your central message, the problem and its solution, your product and your USP compared to the competition, and your business model.
Slide 1: Mission Statement
In the introduction of the pitch deck, you introduce the start-up in a few words. Keep this slide as simple as possible and formulate in a concise, short sentence what your start-up is all about. For example, in Airbnb's pitch deck, it reads, "Book rooms with locals, rather than hotels."
IMPORTANT: On the first (and last) slide, be sure to include contact information!
TIP: Due to the generally short attention span, it is crucial to capture the interest of investors right in the first few seconds. For this purpose, our CEO Martin Behrens likes to start with a question during live appointments, for example: "Who of you had to deal with presentations in the last few days and was annoyed by this topic or the tool used?" Consequently, a large part of the audience is, immediately emotionally involved and directly interested in hearing what comes next. Important: It is essential to consider in advance whether the time slot and general conditions permit such an introduction!
Do you need ideas for a perfect presentation introduction? Here are the three best ways to start a presentation.
Slide 2: Team
Investors not only love exciting business concepts, but also outstanding teams! Therefore, in addition to yourself, introduce your key team members, their talents, experience and know-how, and their role in the company. In short: Who are you and what makes you and your team top entrepreneurs?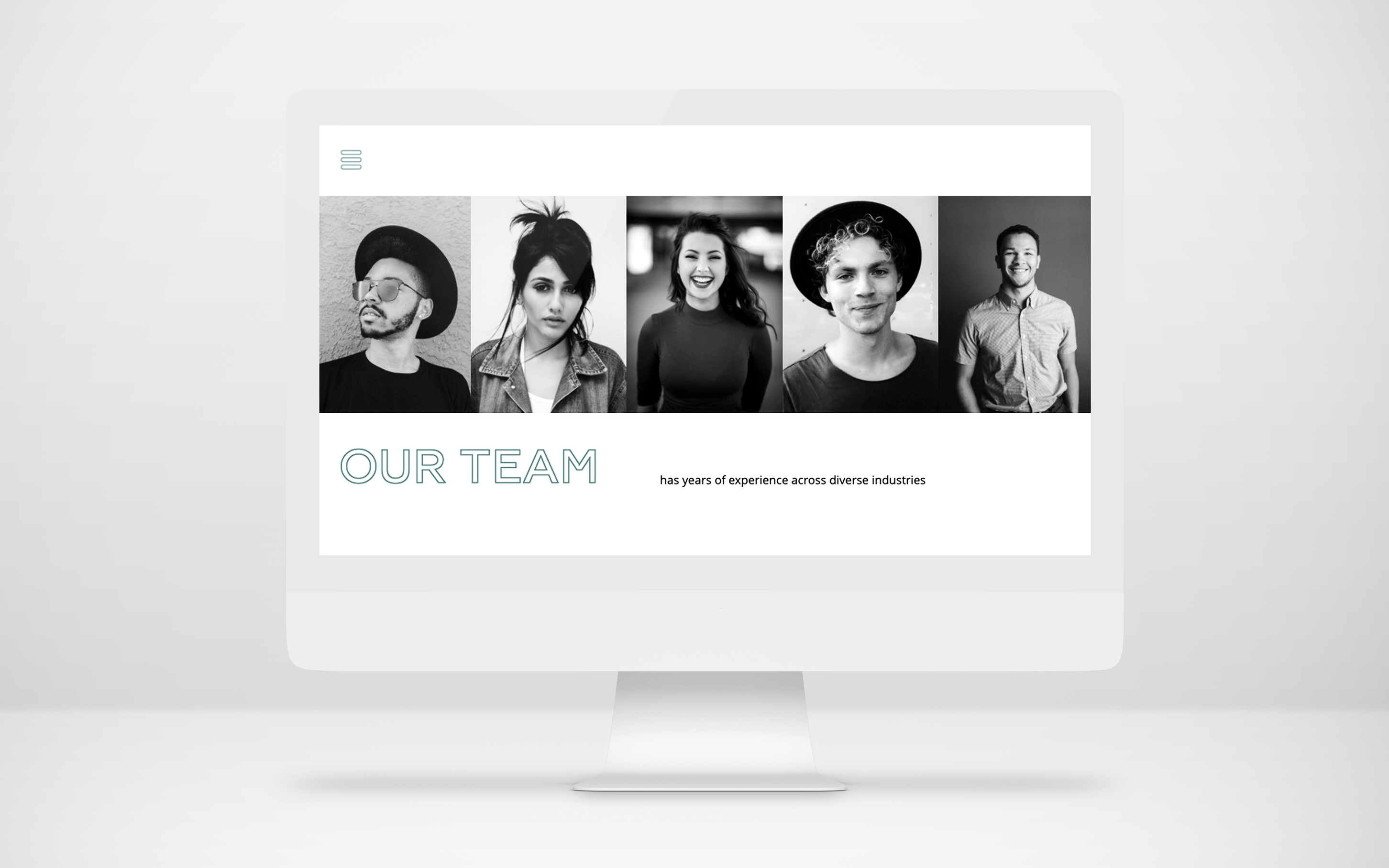 Slide 3: Problem
Every good idea also solves a problem! Try to describe this in a comprehensible way and show how you can sustainably improve the current situation of your target group. TIP: Have a market analysis ready for any questions!
Slide 4: Solution
In the next step, present your product or service as the optimal solution to the problem described. Don't get lost in details and make sure you send a clear, understandable message.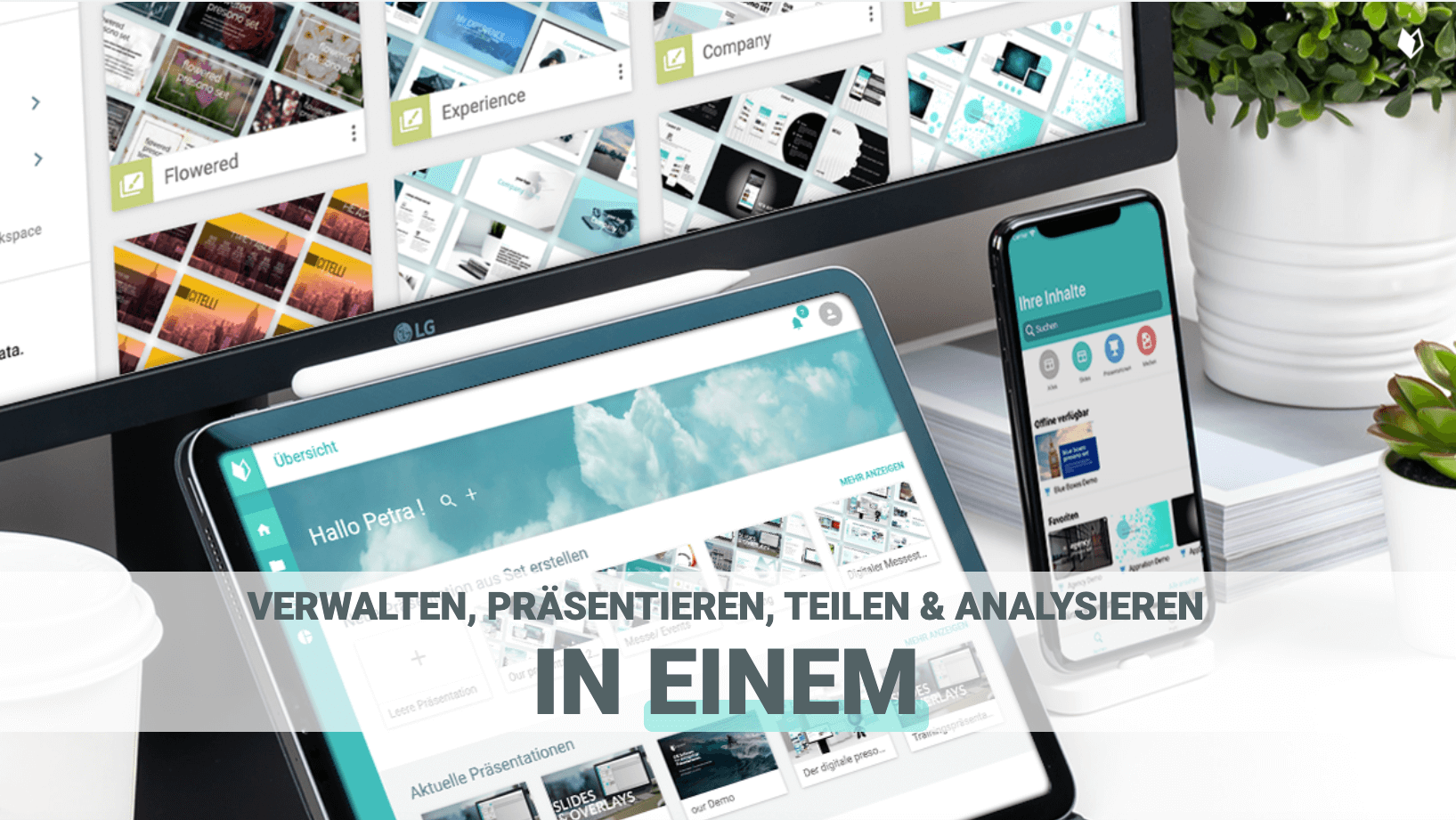 Slide 5: Product or service
On this slide you should present the most important functions and features of your product. If possible, use visual support to present your products, ideas or services in the form of pictures, videos, demos or other "show and tell" possibilities.
TIP: Suppress the urge to pack all the details onto this slide, because here too the motto is "keep it short & simple".
PRACTICAL: With our tool, you can use overlays to store in-depth information and make additions visible with just one click when asked by your discussion partners.This is not only extremely helpful during a presentation, but also a smart way to enrich the pitch deck that is subsequently sent out with additional information - because for this decision-making aid, more text and background information is not only allowed, but even desired.
Slide 6: Market and Market Opportunities
On this slide, discuss your target audience and the appropriate market size for your products and services. Again, have a suitable market study or your own market research results ready and provide a brief insight into your marketing plans to match.
TIP: In order not to overwhelm the audience with a flood of numbers, data and facts, we recommend focusing on one or two key figures. Less is definitely more here, too!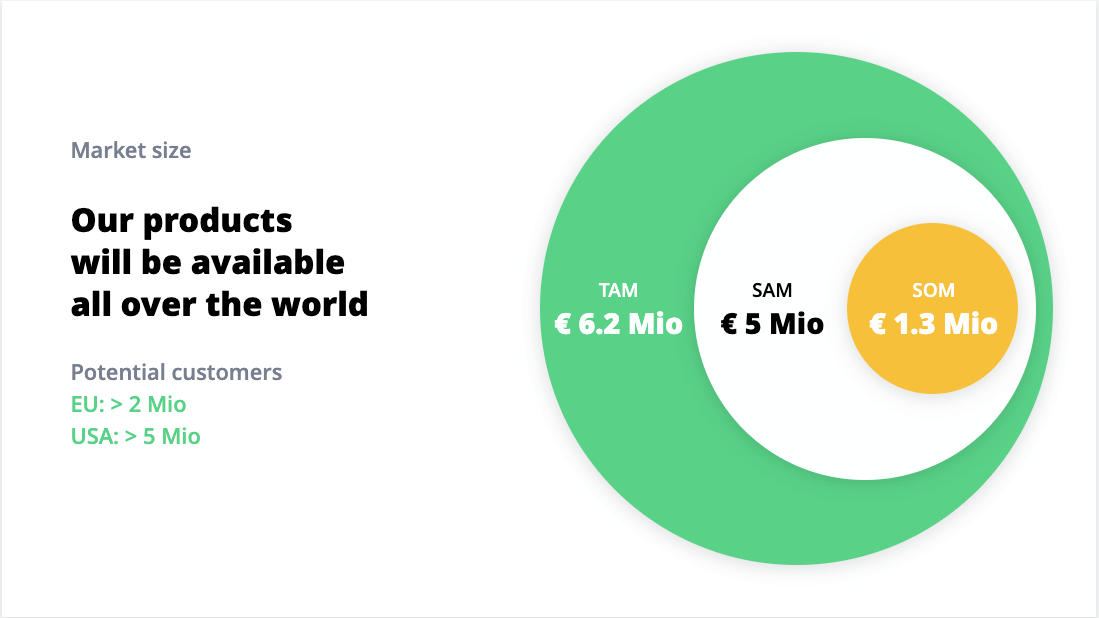 Slide 7: Competition
There is always competition! Therefore, list the most important companies that solve the same problem as your start-up and briefly show how you differ from the competition and how you position yourself in the market.
Slide 8: Unique selling proposition (USP)
To convince investors of your product, idea or service, a clear USP with sustainable added customer value is a must! Therefore, use this slide to show how your product differs from the existing ones and what makes it so attractive compared to the competition.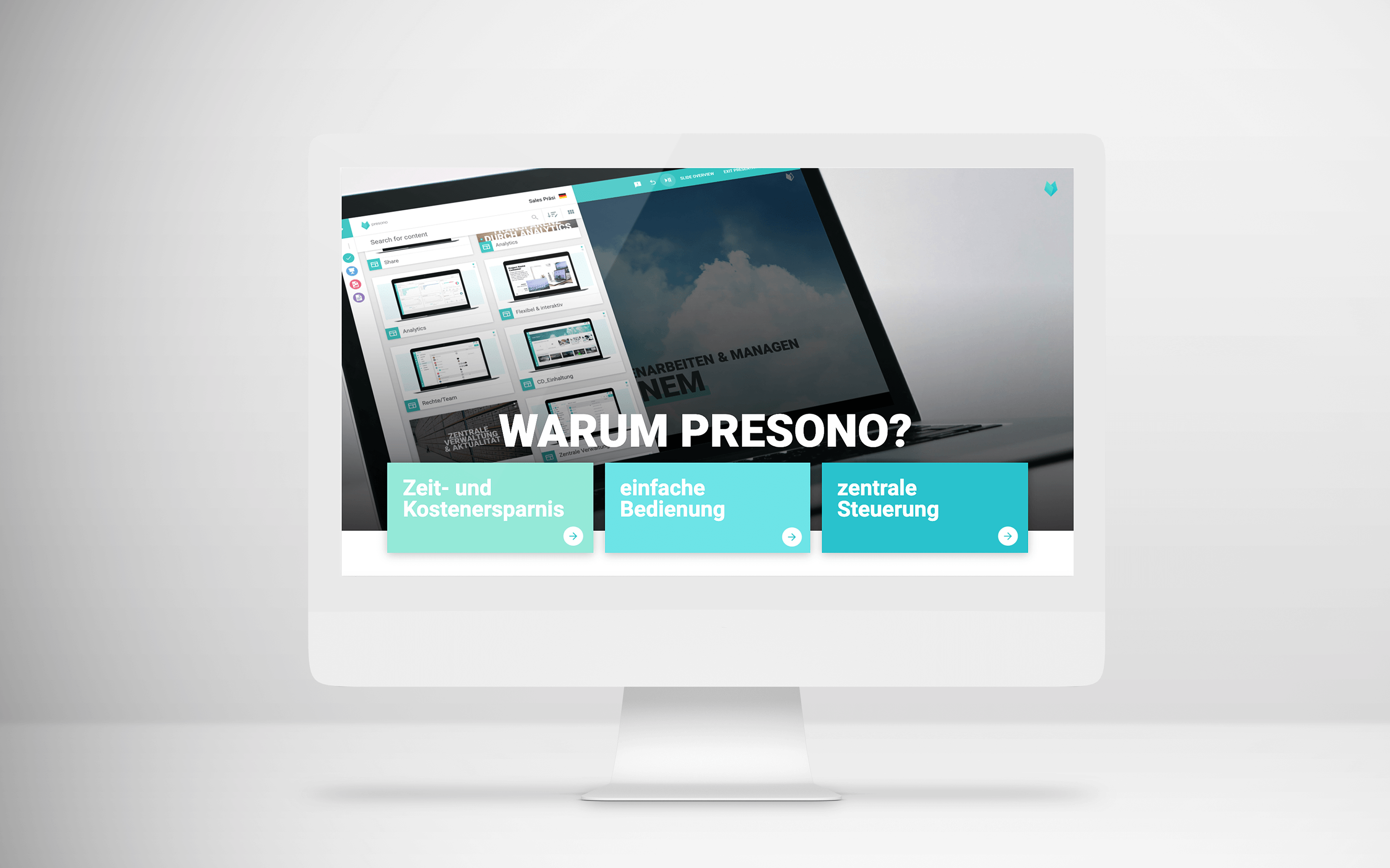 Slide 9: Business model and finances
Let's talk numbers! Companies have one primary goal: to make money. On this slide you have to explain in a comprehensible way how and when you will generate revenues. The Business Model Canvas outlines in an optimal, striking way how your business model works and which offers and services bring which advantages for which customers and consequently which revenues. If you have multiple revenue streams, you should focus on the key revenue generators.
TIP: A financial plan can also help you to clearly present the most important figures, data and facts on this slide.
Slide 10: Current status and milestones
In contrast to the American philosophy, for European investors a "proof of concept" is often a prerequisite for an investment. This proof can be provided, for example, by initial sales or the number of active users. On this slide, therefore, present not only your status quo but also special milestones or existing customers and testimonials.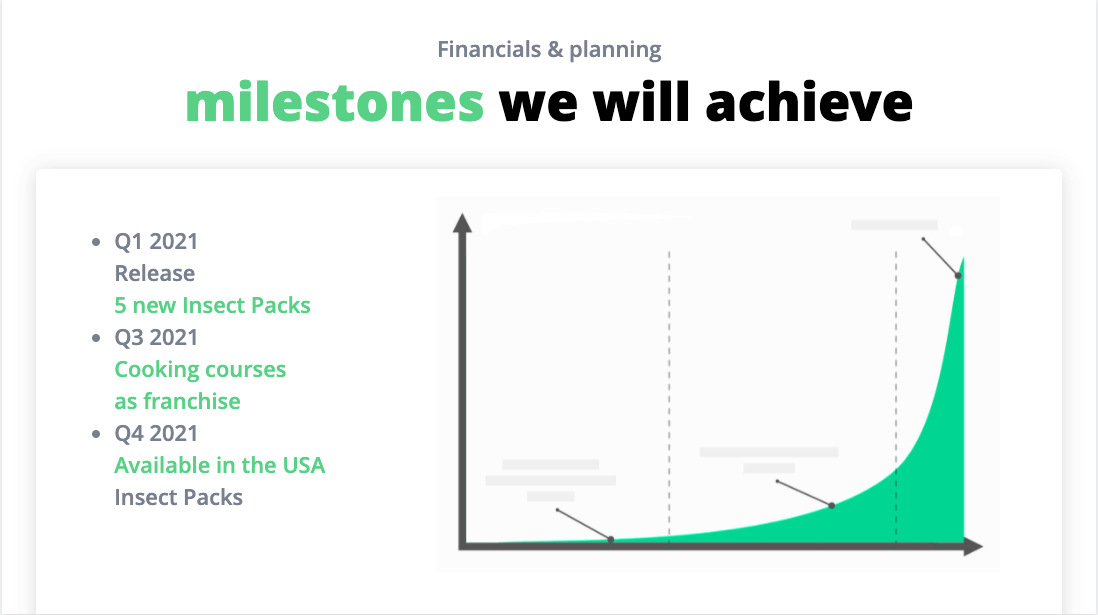 Slide 11: Capital Requirements and Call to Action
The goal of most (investment) pitches is to convince an investor to provide capital for your startup. Consequently, you need to outline what financial resources you need, what you will use them for, and what you want to achieve with them.
Finally, by the way, you should replace the popular - and yawningly boring - "Thank you for your attention" slide with a catchy "Call to Action" slide. For example, we like to end our presentation with, "Join us in launching the next generation of presentation!"
Additional slides to include in your pitch deck:
Although you should generally keep your pitch deck as short as possible, you may need a few additional slides to fully explain your company or story. The following slides, among others, are commonly found in investor presentations:
Partnerships
If you have already entered into key strategic partnerships (e.g., in sales) that are a critical success factor, it is important to showcase them.
Exit strategy
Already established, high-growth startups often also have an "exit strategy" slide in their pitch deck. This outlines well-known cases of similar companies and their exits, in addition to the potential acquirers.
In-depth documents
In addition to your pitch deck, you should have more in-depth slides ready to provide upon request. Preparing these supplemental detail slides can further ensure that you do not overload your presentation with too much information.
Your pitch advantages with presono:
A professional pitch does not end with the last slide, but with the post-processing, because investors always need the corresponding pitch documents afterwards to be able to study them in peace. With our tool, you can send your presentation directly via shared link to your discussion partners and then evaluate both the presentation given and the click behavior of the investors in detail.\ \ In addition, start-up and founder teams benefit from our central content management. Not only is all data securely collected in one place, but any changes, such as current sales figures, can be saved with just one mouse click and made available to the entire team again quickly and easily. So nothing should stand in the way of a successful pitch, especially on the technical side.
\ Want to learn even more about the art of successful pitching? Here you will find our 5 most important tips & tricks!
With that in mind, best wishes for success with your next pitch!