In order to achieve great goals, you need not only experience, expertise and a great team, but above all strong partners who share your visions and actively promote them. In fido Bürosysteme, we have found just such a partner. Specializing in digitization as well as information and print management, the German trading and consulting company provides comprehensive and cross-thematic support, design and implementation of complex business solutions. Since January 2021, fido has been our exclusive sales partner in Germany and deeply immersed in the world of presentations. Time for us to elicit fido CEO Julia Enderle's very personal presentation tricks and to talk about the digital working world and the workplace of the future.
fido Bürosysteme now has presono in its portfolio - in addition to digital tools for document and contract management, invoice workflow, DMS consulting and digital archiving - a highly innovative presentation platform. How does presono fit into your concept and what about our tool convinced you immediately?
fido's corporate vision is "Simple. Digital. Work." This means that we are always looking for business tools and software solutions that soften the boundaries between digital and presence working. In doing so, we are primarily looking for use cases for which there are not yet sufficiently good solutions - be it for meetings, conferences or training sessions that take place virtually or on-site, for example. Currently, many companies are also looking for solutions - not least because of Corona - to digitize their showrooms or optimize virtual presentations in sales. 
My vision is to use hardware and software tools in such a way that the boundaries between real and virtual space disappear completely. presono offers precisely the interactive possibilities to intelligently link media that I feel are missing in previous office tools. Often you only have the possibility to send a PDF offer, a video link or a PowerPoint presentation with an e-mailt. All this can now be summarized interactively in presono. The user is thus free to click on exactly what interests him. The sender then receives an exact evaluation of the click behavior and thus knows exactly who has viewed which content and for how long. Individual interests can thus be used as virtual feedback, just like in a real conversation.

In your opinion, how important is the linking of topics such as collaboration, management and presentation and which advantages of presono are particularly helpful for you here?
I observe time and again that companies use a wide variety of tools, but unfortunately these are often information silos - also when it comes to presentations. Companies have a wide variety of presentation versions in circulation - even if marketing updates and sends the content or perhaps even makes it available in a document management system. Nevertheless, it is still up to the individual employee to "pull" the latest version. With presono, these worries are a thing of the past, because the platform automatically provides only the latest version - and that is an enormous relief for the employees. But for me, presono is even more interesting when it comes to implementing digital showrooms. We all know the situation: We go into a showroom - be it a car dealership or a high-tech store, for example - and then there are paper flyers stuck in front of the products. If content needs to be replaced, it is printed again. What companies actually need is a display that they can fill with content centrally and that the customer can operate interactively with – like a touch app on a smartphone. A website is no substitute here. You can send the link to a landing page, but afterwards you don't know whether the prospect has actually looked at the page or what interests him most. This is where you miss out on important data that can be crucial for a follow-up conversation. In addition, a website is never as much fun as a tool that encourages the user to click through the content interactively and individually and discover a wide variety of content.  
That's right! That's also one of the reasons why interactive whiteboards are currently experiencing enormous hype. What are the major advantages here and how can they be used in the best possible way?
I would like to answer this with a practical example. Imagine a conference situation in which both participants are sitting in the room and digital participants are present. As the presenter, you sit in front of your notebook and project your screen onto the wall using a beamer. In between, you stand up again and again and go to the wall to show or explain something. When you write, draw or interact, you return to your notebook. With an interactive whiteboard, this tedious process is completely eliminated. You stand free and easy in front of a conference table - with people in the room and remotely connected. A camera in front of you transmits you and your surroundings in 360° degree mode and the interactive whiteboard simultaneously transmits your screen, allowing you to draw, write, note and click directly on the board. In combination with presono's unique features, this opens up a whole new dimension of working. For the viewer, you create a complete hybrid scenario in which it does not matter whether the participants are sitting in the room or are virtually connected. This is an unbelievable benefit, especially in the area of training, as you can now concentrate on the content and your usual form of presentation again and your counterpart perceives the human being again.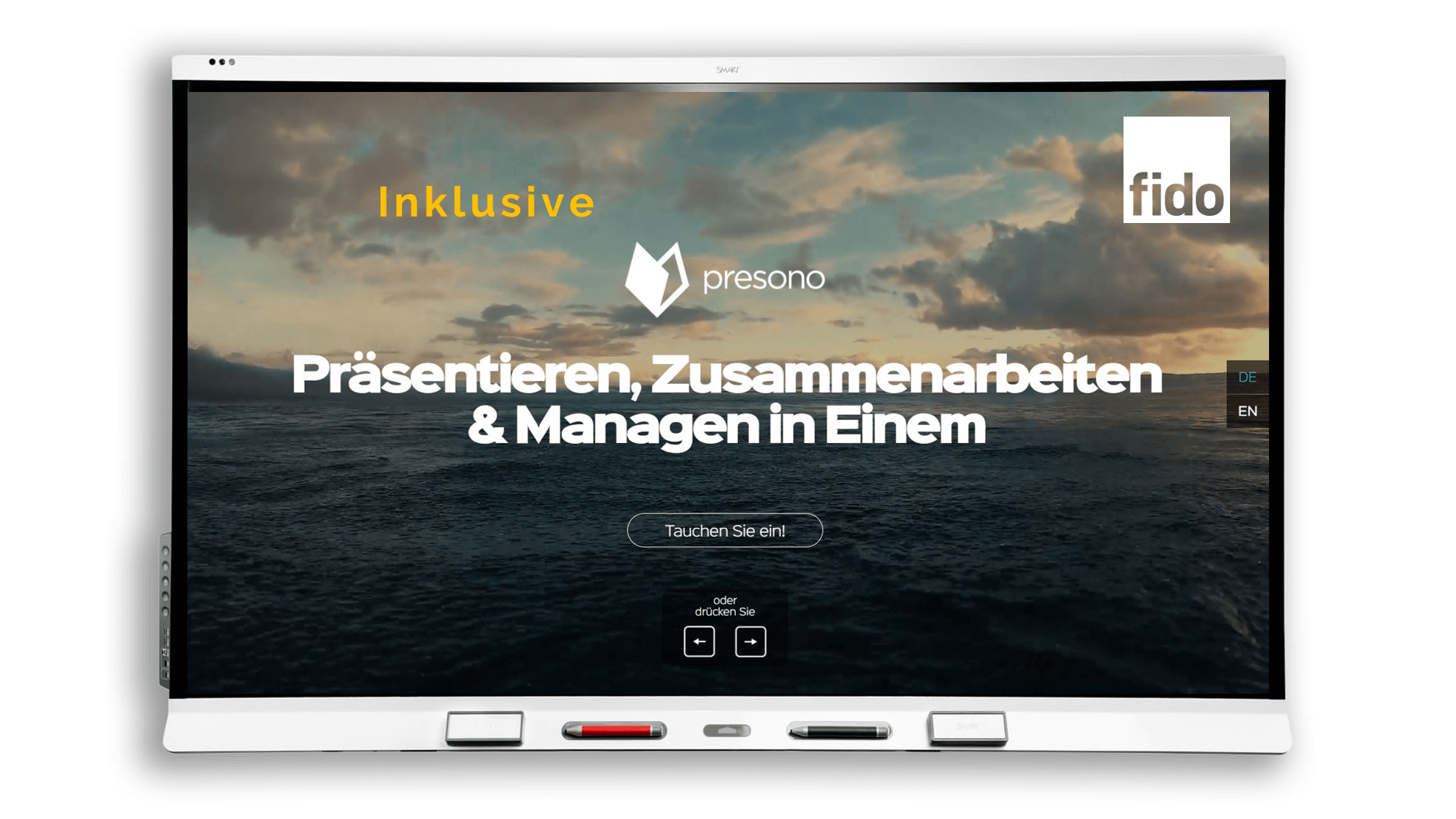 Interactive whiteboards merge the digital and analog worlds of work.
Digitization is in full swing, yet many small and even large companies have not yet jumped on the cyber bandwagon. In your opinion, what is holding them back and what tips can you give these companies to get off to a successful start in enterprise digitization?
We perceive three obstacles in this regard: First, people try to find the complete solution for the entire company too quickly. Working groups then sit in many meetings and compile requirements, which usually takes too long to achieve a faster digital transformation due to the current situation. 
\ Second, they try to continue working as before. This is when the topic of e-mails and VPN clients in particular comes together, resulting in inefficient processes. At some point, these then become a danger for companies because it is no longer possible to centrally track where which document or information is located - whether it is on a central Windows drive or in some email inbox. Unfortunately, in DMS implementation projects we often encounter many terrabites of partly old, duplicate and similar content that no one can tell apart anymore. \ Thirdly, migration from one system to another often becomes an obstacle. Because as long as data migration cannot be automated, companies are faced with the challenge of either running two parallel systems or making a classic cut. The latter leads to extra work for the employees, as the data has to be created anew.\ What we recommend here is to take out one department or central process and look for a tool that meets the necessary requirements and thinks along long-term requirements such as a move to the cloud. However, this process should be split up, as otherwise all requirements often flow into it without prioritization and you evaluate past the "right" solution. Of course, we support companies with moderated workshops during this process and analyze which data is located where in the company and which system is best suited for it.
The future of work is thus becoming increasingly networked. What do you think the workplace of the future will look like and what would you like to see in it?
As I mentioned at the beginning, the workplace of the future makes the boundaries between the digital and analog worlds disappear. Here, I can easily meet with people via video conference just like in real life. However, the familiar video conferencing systems are not yet sufficient, because the images and sound are not transmitted in the correct presence. Just as with a presentation, it is simply no fun to stand or sit virtually in front of a product and wipe through PowerPoint slides until you have found the right answer. In the best case - and this is exactly how we will implement it - you call a company because you want to have a product explained to you, and the consultant connects you directly to a virtual room. In this room, you can see, hear and talk just as well as if you were sitting in front of a product or software demo in a real room. Because that's what we humans are still all about - interacting with each other.
With this in mind, we are very much looking forward to the steps we will take together with fido in the future and will be happy to answer any questions, requests and concerns from anyone who would like to learn even more about interactive showrooms, trade fairs and presentations!